Happy Sunday morning, friends! I'm coming to you today half-way through my second cup of coffee, downing my Vegan Chocolate Shakeology, and still trying to process all of the awesomeness from ISTE18. Though I was only able to attend ISTE on Tuesday, it was such a fabulous experience that I can't wait to repeat next year, especially since ISTE19 is in Philadelphia — a history nerd's DREAM! Here are a few reflections and tips from my first ISTE experience – hope you find them helpful!
PLAN, PLAN, PLAN! 
As an ISTE newbie, I really had no idea what to expect walking into the convention center Tuesday morning – including where in the convention center I was supposed to be!  Fortunately, a kind fellow ISTE attendee recognized my confused expression and, not only showed me the way to registration but also directed me to a Starbucks with a small line! SCORE! When searching for sessions you hope to attend, pay attention to any registration information – for example, attendees for ADE sessions were lined up outside of the session room at least 30 minutes prior to the beginning of the session! Also, sessions I attended did not allow people to sit on the floor or stand if there were no more seats. I wasn't expecting this at all! Other conferences I've attended allowed participants to stand or sit on the floor if needed – lesson learned!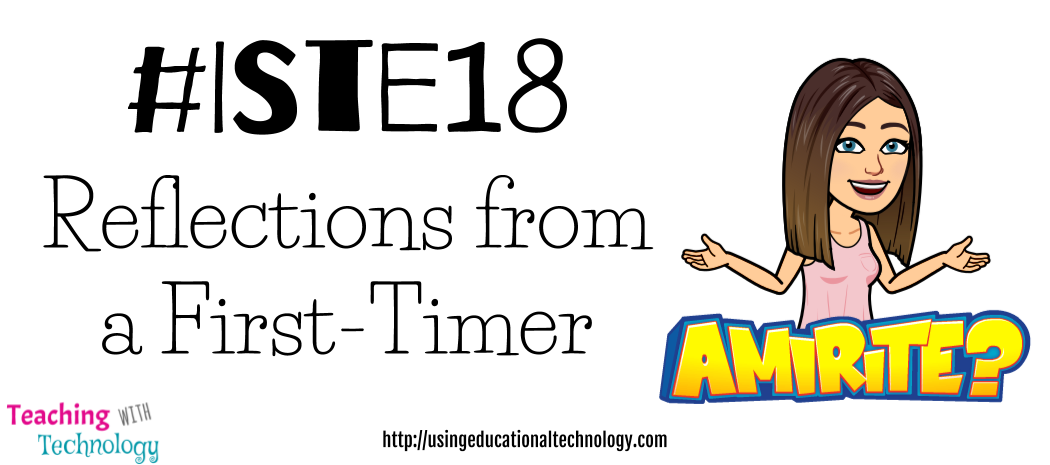 BOOK IN ADVANCE! 
I live about 5.5 hours away from Chicago and had every intention of hopping a plane or a train to get to ISTE. I planned to fly from Lambert St. Louis to Chicago Midway which, in all honesty, is an hour flight – tops. I did not, however, realize that flights become more expensive the closer you get to your travel dates! I know — rookie mistake. I don't fly very often, and when I do, my husband takes care of booking the flight! I'm also very fortunate that my district paid for my hotel and registration, so I didn't have to worry about getting (and paying for) a hotel room! Since the conference is in Philadelphia next year (and I'm totally stoked about going to a city so PACKED with history!), I'll be taking my Momma's advice and planning WAY in advance!
WEAR COMFORTABLE SHOES! 
Yes, I've gone to conferences before. Yes, I know that I walk a lot at conferences, but HOLY MOLY I was not expecting the crazy amount of walking that was going to happen just inside expo hall! I literally walked for an hour and did not pass the same booth twice. It was an amazing experience to be able to connect with so many great people that I felt like I already knew through Twitter. Let's just say this — it takes A LOT of walking/exercise to make my legs feel tired and/or sore and I was SORE after ISTE! The fact that I hopped in a car and drove for 7.5 hours (yes, I know I said we were only 5.5 hours away from Chicago, but I traveled with my mom and two young daughters!) didn't help much. I wore flip flops, like I typically do, to ISTE — next year, I'm wearing Converse or Toms!
I'd love to hear about your ISTE and/or other conference experiences! Be sure to jump in our Twitter chat on Thursday night and share what you've learned this summer!
Thanks for reading 🙂