WOW. What a difference a week makes! This time last week, I was prepping my students for their last test before Spring Break. We were playing Heads Up, Kahoot!, Quizizz, and I was re-teaching and reviewing content while trying to motivate them to keep going because we were almost to Spring Break. Fast-forward to this week – my daughters, ages 7 & 9 are on their second day of homeschool/remote learning at home with Mommy, Daddy is still working, we're FaceTiming Grandma and Papa, and are thankfully, stocked up on our daily medications. We're all anxious – stressing about the unknown of tomorrow, trying to stay updated and informed about the pandemic while not sending ourselves into a panic, which, especially for this anxiety-ridden gal, is increasingly hard to do! We're trying to help our local economy by ordering delivery and to-go dinners since dine-in is no longer an option. We would normally have tons of outside time when the temperature is in the 60s. However, good ole Missouri weather has thwarted that option, sending torrential downpours and the possibility of tornadic activity. So, we're homeschooling from the comfort of our dining room table, and are thankful, among many other things, for our health!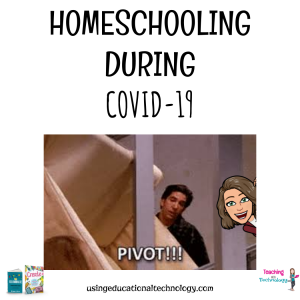 TEACHERS ARE SUPERHEROES
Let's get that straight right off the bat. I've seen many social media posts praising teachers for doing probably the most impressive pivot (imagine Ross from FRIENDS screaming that word as they're moving his couch into the new apartment – you're welcome) the world of education has ever seen with very little warning and, little to no training. While many teachers around the world teach with some level of technology integration, few of us are prepared to immediately switch gears from face-to-face instruction to 100% online learning. There are tons of questions that so many districts, schools, administrators, and teachers are trying to figure out, including student access, accepting work for credit, etc., and everyone is doing everything they can to make it work. Facebook groups are abuzz with lesson and resource sharing, helpful question and answer sessions, and general support from people all over the world because we're all in this together.
"YOU'RE A TEACHER! HOMESCHOOLING YOUR KIDS WILL BE EASY!"
Ha. Hahahaha. Ha. Holy moly, this could not be FURTHER from the truth, friends! Yes, I'm a teacher. Yes, I'm versed in multiple instructional strategies and styles. Also, yes, I know how to use technology to engage learners. However, it's been a hot second since I've been in a math class. Seriously – 2004 was the last math class I took. I earned my "A" in College Algebra and never looked back, people! My oldest daughter, a third-grader, is working on "advanced division," or as we called it when I was in school "division with remainders." I am proud to say that after a solid 30 minutes of working on division yesterday, I didn't have a nervous breakdown. YAY, ME! Also, my daughter did well, too 😉 My youngest, a first-grader, is working on displaying equations multiple ways, including sentences and drawings. I think we did well on that … I did score points with both of my students by letting them wear their pajamas to have school time. That's right. If we could have comfy days every day at school, I would be 100% supportive of that measure! The point here is that even though I'm a teacher, that doesn't automatically mean that I'll immediately be able to magically adjust to providing multi-leveled, differentiated instruction to my daughters. Teaching isn't easy. PERIOD. Teaching my children something outside of my content and age-level? We're doing our best!
Yesterday, we had a schedule. Both kids started with helping to make a homemade breakfast then went to math and moved to English. Next, we had recess and snack, then some reading, lunch, then free time. Today, both girls slept in, had cereal for breakfast, we read, did some math and work with homophones (which really made me think about the craziness of the English language!), snuggled and watched tv. You know what? Both of those scenarios are just fine! None of us know what we're doing. We're all winging it and hoping for the best. If we all do our part, COVID-19 will be under control and our lives can hopefully go back to normal.
I hope you and your family are adjusting to the new (temporary) normal!
Stay healthy and thanks for reading 🙂