Phew! What a week this has been around the world. Countries, businesses, conferences, seminars, workshops, cities, and schools are closing up shop in an attempt to "flatten the curve" and control the spread of Coronavirus to give our health care system a fighting chance to help those impacted by this disease. While the times we live in now are definitely unprecedented, anxiety-ridden, and uncertain, I'm comforted when I "look for the helpers," as Mr. Rogers encouraged us to do. In my state, restaurants are offering free meals to students in school districts that have closed. You've probably noticed many edtech companies offering premium services free of charge during this pandemic.
So, while we're getting a glimpse of what happens when humans don't know what to expect and enter panic mode – from toilet paper shortages to individuals purchasing large quantities of hand sanitizer only to sell them online for outrageous prices (seriously, people?!) – I plan to not only look for the good but also strive to be the good I hope to see in the world. Since many teachers around the world are almost immediately shifting from "traditional" classroom environments to online learning with little or no training, I hope to share a few of my favorite tools and strategies for teaching in an online environment.
GOOGLE CLASSROOM
My top tool for teaching online is kind of a no-brainer at this point in the game. Google Classroom! As you know, in addition to teaching high school Social Studies in a traditional learning environment during the day, I also teach Educational Technology classes (and history/political science classes) online for our local junior college, and also offer online learning opportunities for teachers looking to learn more about using tech INTENTIONALLY in the classroom. In ALL of these courses, I use Google Classroom. Yes, the college I teach for also uses a learning management system, which I'm required to use for grading purposes. Google Classroom lets me quickly and effectively provide timely feedback, evaluate student work, and also provides the option for student collaboration through the question feature. The question feature, in particular, provides a discussion component that helps the online learning environment feel more personable.
SCREENCASTIFY AND FLIPGRID
Sometimes, the best, most eloquent set of written instructions won't get the job done. Sometimes, students aren't able to accurately communicate their ideas, opinions, and beliefs through written words in an online environment. Heck, sometimes words are taken out of context across the board! Creating a screencast can help. Screencastify is a "freemium" screencasting tool that allows users to easily create and share video responses. This is my GO-TO screencasting tool for my instructional videos I create for my online and in-class flipped classes because it's just so easy to set up! You've most likely heard of Flipgrid by now – it's an awesome tool that provides teachers and students with an easy way to verbally communicate ideas in a collaborative setting. And … it's FREEEEEEEEEE! Flipgrid was acquired by Microsoft not long ago, so it's NOW FREE to use. Pretty darn cool! It seems as though Flipgrid is constantly adding new features, from AR to whiteboards, so it's definitely one to check out!
EDPUZZLE
I <3 Edpuzzle. There, I said it. I've loved Edpuzzle since I stumbled upon it in 2014 when I was searching for ways to intentionally use technology in my new, technology-rich environment. Edpuzzle offers teachers a way to share video content with students and monitor student progress through the lesson. My FAVORITE feature of Edpuzzle is the ability to embed formative assessment questions right in the video. Students answer the question before they proceed through the rest of the video lesson. While I use this in my in-class flipped Government class, I've also used it to deliver instruction in my dual credit classes when I'm gone, share specific instructions for a project or lesson, deliver content and provide examples for my online classes, and I also require my pre-service teachers to learn about Edpuzzle and create a lesson using the platform. One of the best parts about Edpuzzle is that you don't have to reinvent the wheel. Lessons are available for teachers
QUIZIZZ
We LOVE Quizizz in my classroom! My students enjoy competing with their classmates as they answer content questions and REALLY appreciate not having to crane over their classmates or rely on super awesome vision to see the questions on the board … like they do with Kahoot. I personally love that I can easily assign games to them for independent practice and review and set time parameters for completion. (Yes, Kahoot offers something similar, but Quizizz is a bit easier to set up, in my humble opinion). My students, online and face-to-face, like that they're able to easily access Quizizz activities in one browser instead of having to open multiple tabs and toggle back and forth. Also … the memes are pretty great 🙂
REMIND
Communication is so incredibly important, no matter the learning environment. Remind has been my "go-to" quick communication platform for years. I've used it for teaching, coaching, sponsoring clubs and other extracurricular activities. My daughters' teachers also use it for quick and easy communication. Remind, like Flipgrid, seems to be adding new features a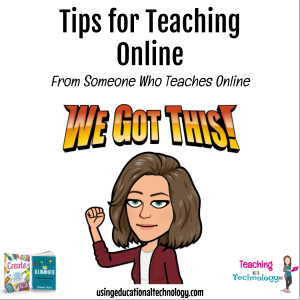 ll the time – especially related to what can be attached to messages. While I use Remind to communicate reminders, motivation – "yes, you'll do great on your ACT!" or "do-nut stress about the test – donuts in my room!" my students also use Remind to, well, remind me to grab "jolly branchers" or "governmints" from the grocery store for class. I hope my students know they can reach me for assignment info and content questions throughout the school year, as well as during these times of angst and uncertainty.
I'm praying this pandemic ends quickly and you all remain safe and healthy! Thanks so much for reading 🙂