I've been blogging for a little more than two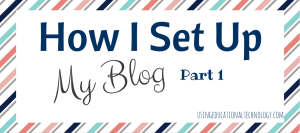 years, and by no means do I  consider myself to be an expert in the field! However, I've recently been asked to talk about the tools and resources I use to set up my blog.
Without further adieu, here's how I set up my blog…part 1!
Blogging Platform: WordPress.org
When I created my blog initially, I used Blogger has my blogging platform simply because it was a Google App and it was fairly easy to use. I'm not a master at reading HTML or inserting code, etc., so Blogger was a great fit. However, as I started to devote more time and energy to my blogs, I decided to switch over to WordPress. Why, you ask? WordPress offered me an increased ability to customize and personalize my blogs. Hundreds of plug-ins, widgets, and themes are available through WordPress that can be a huge help with a variety of aspects of blogging. Yes, I know that Blogger is a free service. However, the premium version of WordPress costs something like $13/year…which is quite feasible in my mind!
Domain Service: Namecheap
As it's name implies, Namecheap is a great resource for purchasing a domain name at an inexpensive price. My domains (I have 2) cost me less than $30 per year. Again, this is a very reasonable price, especially considering what you get in return. This is YOUR domain for YOUR blog! Quick tip: if you're thinking about creating a blog (which is probably why you're reading this post – ha!) I would suggest choosing a domain name that matches your blog/website title. For example, the name of my blog is Teaching with Technology, however my domain is usingeducationaltechnology.com … these are obviously very similar in nature, but having a my domain name match the name of my blog would have been great. Why didn't I do this? Simply because throwing a ".com" at the end of my blog name was already taken, and I didn't want to title my blog "Using Educational Technology." Super reasons, right? 😉
Hosting Service: Namecheap
If you do choose to go the premium WordPress route, you will need a hosting service…and there are tons of options available with prices all over the price spectrum. I chose to go with Namecheap because … you guessed it… it was the cheapest option I found AND it has great customer service. I can't tell you how many conversations I had with super nice people over at Namecheap when I couldn't figure out how to redirect my domain to my new hosting service or when I kept seeing a terrifying message saying my website could not be found. Or, my favorite story to tell, when I switched from Blogger to WordPress and accessing my website continued to direct viewers to the Blogger version of my blog which no longer existed. Talk. About. Terrifying! The customer service at Namecheap was incredibly helpful and easy to access and digitally held my hand through the entire experience!
Since I consider myself to be quite lacking in the field of informational technology … coding and HTML language are things that I'm working on, I promise … I consulted TONS of blogs, articles, and YouTube videos to help me navigate the tedious process of setting up my blog. These WordPress tutorials from WP Beginner are especially helpful and AWESOME!
Also, be sure to use your Personal Learning Network when it comes to questions relating to the technical side of your blog. My PLN was SO helpful when I randomly lost my site or couldn't access anything beyond an empty Google screen. These things happen when you're creating a blog … or moving a blog from Blogger to WordPress (holy moly, was that scary!).
Check back soon to learn about my framework, theme, and designs I use for my images!
Thanks for reading 🙂