Welcome to…American Government!
Your Mission: The American Presidency.
Objective: Concept Mastery.
Fourth quarter has been, at least in my classroom, a challenging time for student motivation. The month of May is off in the not-so-distant future, and visions of swimming and sleeping late dance in the minds of our students.
In a desperate attempt to combat what I've come to call the fourth quarter funk, I'm introducing my students to American Government…gamified!
Before I explain "the mission," let me first say that I have absolutely no knowledge whatsoever of the world of "gaming." Seriously..not a clue. In fact, I ran all of my terminology by my husband (a Call of Duty guy) before I presented "the game" to my students because gaming concepts and terminology are, in my opinion, nearly comparable to learning a foreign language. Gaming to me is playing Super Mario Brothers on my 1990's Nintendo system. Those were the days…. 🙂
So, even if you are not a gamer, please don't be scared away from concept of gamification!
I first learned about gamifying about two years ago at a flipped learning conference, and it sounded interesting. However, my first thought was, "I have an EOC in my class, and I can't devote class time to students playing games!"
Gamification of learning and game-based learning are two different concepts, at least in my mind.
To gamify a lesson or unit is to add elements of a game to your activity. Game-based learning involves incorporating learning games into your lesson or learning environment.
After I sorted out these terms, and learned more about gamification from a wonderful session at METC, I decided to give it a try!
Here's the plan, in a nutshell.
Students earn "experience points" by completing objectives, or targets. These objectives include completing and submitting unit assignments on time, actively viewing instructional videos by their due dates, tutoring their peers after school, researching and presenting current events articles, and other "targets" (activities assigned by me) that may arise.
Students then earn badges through their experience points. These badges provide various perks students may use on their test. For example, if students earn 200 experience points, they can use the "Post-It Pal" badge, which allows them to use a Post-It note of information on their unit test. Side note…I've included the stipulation that the Post-It note must be supplied by me and only include their own handwritten information 🙂
At the end of the unit, 10% of the students experience points will be added to their grade in the form of bonus points.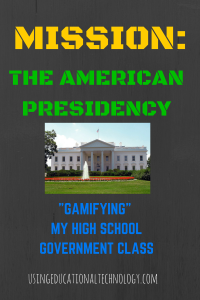 I introduced this "game" to my students yesterday, and their response was remarkable!
They are actually excited about this opportunity, and have asked what else they can do to earn experience points! I'm attempting to secure guest speakers for my students…imagine how many experience points their attendance at this type of event could earn!!
In the next few days, I'll be posting some helpful documents from "the mission," badges, as well as student progress and response. Check back soon!
Happy "International Day of Happiness!"
Thanks for reading 🙂