Seriously, Flippity just keeps getting better!
In addition to creating flashcards, "quiz show" review games, and certificates by simply modifying a Google Sheet template, now Flippity fans can create Progress Indicators for their students!

This newest addition to Flippity includes the same simple instructions as the features listed above. Simply copy, modify, and rename the template. Then, add desired information, select "publish to the web," copy and paste the link in the designated sheet, and voila! A link to your new Progress Indicator is ready to share and use.
What happens when you need to update your students' progress? Do you need to follow these same steps again?
Nope!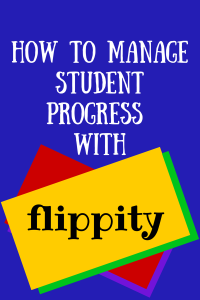 Simply access your modified Progress Indicator template, which is safely housed in your Google Drive, make the require updates, and access your link. It really is that simple!
How can you use this tool in your classroom?
Monitor student progress in reading comprehension or fluency
Manage students' earned points in a gamified setting
Keep track of and update bonus points students earn
How could you use this in your classroom?
I can't wait to see what the geniuses at Flippity create next!
Thanks for reading 🙂