Happy Monday, friends! I'm writing to you today from Thanksgiving break! WOOOHOOO! As I told my students and colleagues last week, I've needed breaks before, and I've wanted breaks before, but I do not remember a time when I so desperately needed a break! This year has been a dandy, to say the least. Earlier this month, I was presenting my Social Studies and Google Classroom seminar to some amazing teachers in Ohio and I said, "I really feel 'end of the year teacher-tired' in November." Their response quickly reminded me that I am not alone in this feeling. Phew! I found myself needing a 3rd-quarter boost toward the end of 1st-quarter and … tada! The Hot Seat review game was born!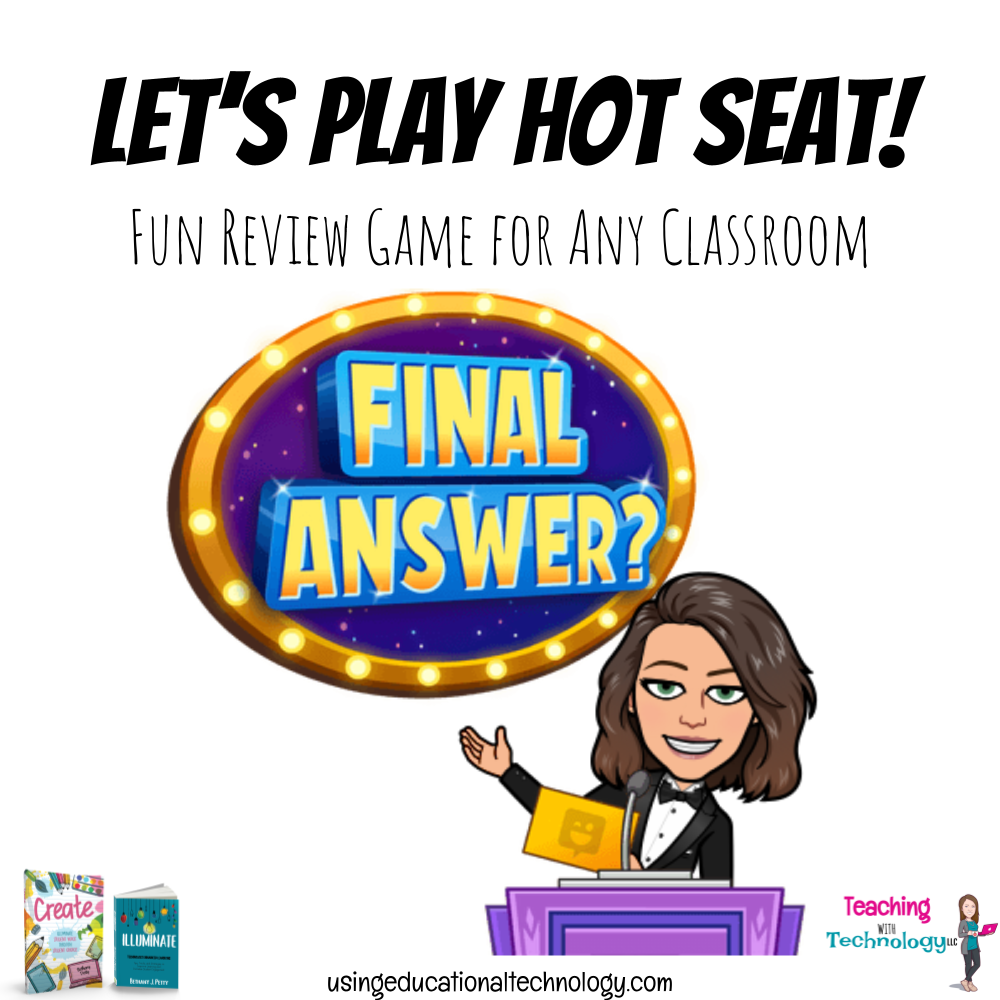 What Is Hot Seat?
I'm so glad you asked! 🤣 Hot Seat is a blend of $100,000 Pyramid and one of my favorite quick formative assessment/review apps – Heads Up from Ellen. Honestly, I intended to call this game "100 XP Pyramid," but when I initially introduced it to my students as "like the $100,000 Pyramid game," and they responded with, "huh? What's that?" or my all-time favorite, "I think that's the game show my grandma watches." Oh. My. Lanta, did that make me feel OLLLLLLD! So, we settled on Hot Seat. Here's how it works:
Divide your class into 2-3 teams, depending on the size of the class
Allow each class to choose a speaker for each round that will sit in the "hot seat." Try giving the speaker a fun name like, "captain," "fearless leader," etc.
Designate the "hot seat!" For us, this is my stool that sits int the front of our classroom.
When you're ready to start, flip a coin (or ask Siri to do it for you) to determine which team goes first.
With your students, choose a time limit per round. Our "go-to" time limit is 1 minute. Next, you're ready to play!
The captain, fearless leader, speaker, or whatever you choose to call the person in the hot seat steps up to the … well … hot seat. Make sure they're facing away from the board where you display your pyramid. When everyone is situated, reveal the first term/concept!
Before they can move on to the next level of the pyramid, the students have to describe all of the terms on level one to the speaker.
How do I make it?
Using one of my favorite Google tools, of course! You know I'm a sucker for Google Slides and Google Drawings, right? I created Hot Seat using Google Slides. Super simple!
Start by designing your presentation – I chose a sparkly background (just search Google Images within the presentation until something jumps out at you). Next, you'll insert shapes (I chose squares, but choose whatever shape you'd like!) on the presentation. **Time-saving tip** Create one shape, then copy/paste to ensure that every shape is the same size!
Next, you'll want to create a question/naming scheme. For me, XP made the most sense. However, you could use money to toss in a Jeopardy element, shapes, colors, numbers, or anything else that would work for your students.
Once you've built your first slide, simply duplicate the slides, one at a time, deleting the name of the box (25 XP, etc) and replacing it with your terms/concepts. I've found that it's helpful to have at least two different pyramids – more if you're playing the game with multiple teams.
As you proceed through the game, you'll progress through the presentation. That's it!
When time runs out for one team, make sure you remember what slide they stopped on so you'll be able to revisit that slide when their turn comes up again.
What rules/parameters do I put in place?
Whatever you want, friends! The main goal of using this game in my classroom is to review concepts (my students think the point is to annihilate their classmates, but oh well … they're learning!) therefore, teams MUST utilize course vocabulary when they're describing terms/concepts to their classmate in the hot seat. For example, if the word is "federalism," students can't say, "it starts with F and rhymes with ederalism." 🤣
That's it! If you'd rather use my template instead of making your own, please click here to make a copy.
What are your favorite ways to quickly review content with your students? We love Blooket, Quizizz, Quizlet Live, Kahoot, and Head's Up, but sometimes it's good to use something different!
Have a great week and thanks for reading 🙂