I honestly have no idea how I stumbled upon Triventy … does that ever happen to you? It wasn't Pinterest or Twitter, I don't think it was in any newsletter I subscribe to. When I share tools I find with you,  I like to also show you how I found it. Hmm. Oh well! Be sure to add Triventy to your formative assessment arsenal! Here's how it works in my classroom.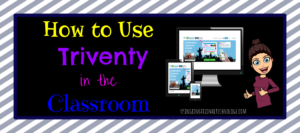 Triventy is a gamified formative assessment tool, similar to Kahoot or Quizizz. Teachers can create games and can easily share them with their students via link or through Google Classroom. Games can be public or private and teachers can search (and modify) existing public games to fit the needs of their students.
To create a FREE account with Triventy, make sure the slider is on "education" and not "events" on the home page.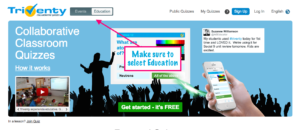 Next, choose "sign up" and choose "sign in with Google." Be sure to sign in with the Google account you use to access Classroom — if you want to be able to post Triventy games on Classroom, that is 🙂 I know I've said this before, but how awesome is it to be able to sign in/ sign up with Google and not forget another username and password?!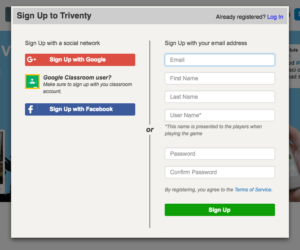 To create a quiz, simply select "create quiz" on the main screen. Triventy gives quiz creators the option to invite others to collaborate by adding quiz questions. This could make for an interesting class assignment!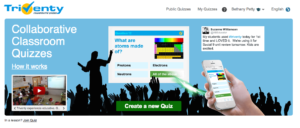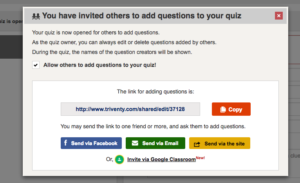 When creating a quiz, teachers can determine how long students will be given to answer quiz questions, and can also add an image for the quiz. Teachers can add images for individual questions as well … if you choose to add an image to the quiz, that same image will be added to each question. If you'd like to change the image on individual questions, you'll have to make that change while editing the questions.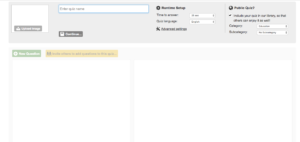 I think it's fun to add my bitmoji to the test and question images 🙂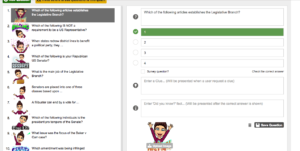 Triventy provides a quiz question option and a survey option. Teachers can also include hints for each question or a "did you know" fun tidbit of information to display at the end of the question.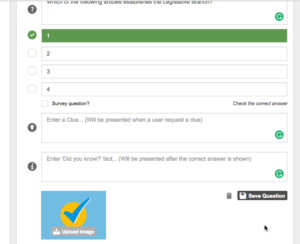 Be sure to add Triventy to your formative assessment toolbox!
Thanks for reading 🙂