Well, friends. I'm taking on another role this semester – that of an online instructor! I'm excited, overwhelmed, and nervous at the same time. I'm also teaching full time, blogging, and most importantly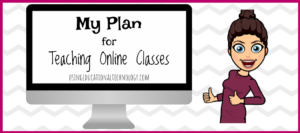 raising two fabulous daughters with my awesome husband. I always say that I love to be busy … and I'm definitely going to be this semester! Fortunately, the online classes that I'm teaching this semester are the same course as one of my dual credit classes that I teach in my day job.
My Experience …
All of my graduate work was completed online, so as I started creating my online courses, I felt like I had a fairly good grasp on how these things work. Discussion boards, readings, quizzes, and tests comprised the bulk of my online learning. However, I'm teaching at the junior college level, and the last coursework I completed was at the graduate level … there's a tad bit of a difference 🙂
Asking the Experts … 
I graduated with my Masters degree in December of 2011 and then immediately jumped into a second graduate program to earn additional hours in History to be qualified to teach dual credit classes. I completed this task in the Spring of 2013… obviously it's been a bit since I've completed an online course. Fortunately, many of my dual credit students are enrolled in online courses, so I went to the experts for advice. Listed below are the three most important suggestions they provided:
Everyone hates discussion boards – sorry kiddos, there's a reason for these discussion boards, and believe it or not it's not to torture you 🙂
Make sure that you have everything due at the same time – this seemed like a given, but their recent experiences suggest otherwise.
Respond to emails … wow, can you imagine the frustration in an online class if the teacher doesn't respond to emails?!
The foundation of my online class will be discussion boards, quizzes, exams, instructional videos (made by me and by the students), and primary source analysis. I would LOVE to incorporate Twitter chats into the curriculum, maybe as a bonus activity, but I think it's best that I get on my feet before I tackle that.
I wonder when teaching online courses will become commonplace in secondary education? Will district-wide WiFi catch on across the country?
Interesting food for thought.
Do you teach online courses? I'd love to learn about your experience!
I'll be sure to update as the semester progresses.
Thanks for reading 🙂