Happy Friday, all! I'm coming to you from the middle of the last week of our semester. A week filled with review games, finals, and makeup work, along with SNOW earlier this week! I absolutely LOVE snow days, as do many teachers, and was extremely bummed when the snow didn't quite stack up to the forecasted amounts, and I had to put actual pants on to go to work, instead of staying in my leggings at home. Oh, well! The break is upon us!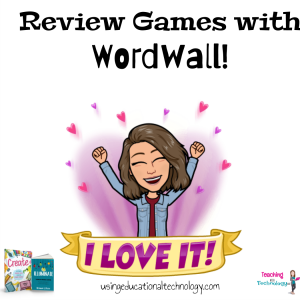 As we were reviewing this week, my students started asking if we were playing Kahoot, Quizizz, Quizlet Live, or Heads Up to review. These tools are wonderful and fantastic, and we use them daily. However, I like variety! So, I did some research and found another pretty awesome website that my students can use to review content. Enter WORDWALL!
Wordwall, similar to other educational sites, provides teachers with the opportunity to sign in with Google (don't worry about forgetting another username and password!) and to create free activities for their students, with the option to upgrade to a premium account to unlock more features.
Unlike other game-based learning sites, Wordwall allows teachers to create an interactive activity, share it with their students by link or through Classroom, and then lets their students choose to play the game in a different format. Here's an example:
I created a game about expressed powers of Congress using the "whack-a-mole" option and then shared it with my students.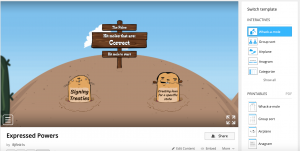 After they played whack-a-mole, they asked if they could try the other game options. Of course, I said, "GO FOR IT!" They were able to choose from a few different options to play individually on their device or with a partner.

I'm glad to say, they enjoyed Wordwall! This will be a great individual review activity test, and is definitely something my students can create to demonstrate learning, too! If you've read Create: Illuminate Student Voice Through Student Choice, you know I'm a HUGE fan of providing my students with options to create products that demonstrate understanding. Wordwall is super easy to use and definitely a tool to add to your toolbox!
I hope your break is in sight and you have a fantastic and restful time away from the classroom!
Thanks for reading 🙂