This post is sponsored by We Are Teachers
Happy Tuesday, all! Every now and then, I hear about opportunities for teachers and students to participate in amazing programs that can bring new ideas, fresh perspectives, and possibilities for future content-related growth. Last year, for example, I found a program that would allow me to bring my students to the Hamilton play while gaining a deeper understanding of our founding era, and applying what they have learned in new ways. Sometimes, these opportunities can form a foundation for hobbies, a passion, and even a career! When they're coupled with relevant and exciting professional development for teachers, well, that's the icing on the cake! Enter the Samsung Solve for Tomorrow contest!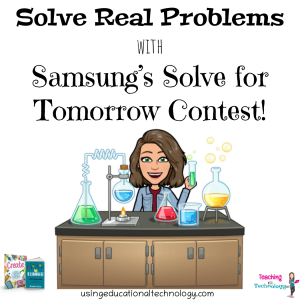 What is Samsung's Solve for Tomorrow?
This is the eleventh year of Samsung's initiative to promote the intentional use of STEM in the classroom to solve problems within communities. Who knows better about issues communities are dealing with than students who are living it on a daily basis? The Solve for Tomorrow contest provides winning applicants with up to $100,000 to spend in their effort to create solutions to a problem within their community. Recent winners of the Solve for Tomorrow contest developed products to combat the effects of flash flooding, provide a quick indicator of the potential for fire in particular areas, devices that measure weight in vehicles to avoid hot-car deaths in children, and an app to help people separate recyclables and non-recyclables. What problems can your students solve? Check out how the students at Omro High School in Omro, Wisconsin worked to educate their community about safety on frozen water!
How to Enter
With the possibilities that the Samsung Solve for Tomorrow program presents, you're probably wondering how you can enter! So many teachers are deterred from entering contests and participating in programs like this, not because we don't want the opportunities for our students, but because the entry process is long and cumbersome, and teachers just don't have time for that! To enter this contest, simply be ready to share how your students might solve a problem to promote positive change within their communities. Also – it's only 5 questions! After you've submitted your application (these are due by December 13!), wait patiently (hard, right?!) to see if your school is named as a semi-finalist!
FREE Professional Development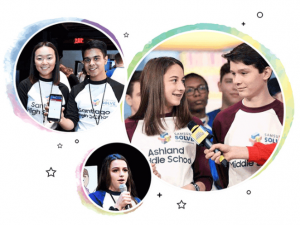 As a teacher, I know how important solid and applicable professional development is, and how it's sometimes tough to come by! Samsung has partnered with mindSpark learning to design awesome professional learning opportunities for ALL teachers who apply – yes, ALL! Even if you aren't chosen as a semi-finalist (or beyond) you still have access to 6 hours of FREE professional development which is full of strategies for whatever your learning environment currently looks like. These PD offerings cover awesome topics such as design thinking (the process I used during my Google Innovator project!) and problem-based learning.
Did I mention this is an online opportunity?! Yes, that's right. The events of 2020 probably wouldn't allow this contest to take place face-to-face, so Samsung has decided to bring this contest to the virtual world. Also, this contest is open to all public school teachers of grades 6-12 … even if you're not a STEM teacher!
Definitely check out this contest not only to bring an awesome STEM program to your school but also to give your students the opportunity to develop and execute solutions to problems!
Thanks for reading 🙂