Hello, and happy Tuesday! Last month, I tried something new by starting a monthly "mystery post" where I choose one of my favorite topics from my blog to share with you! Last month, I geeked out about my flipped classroom – if you're a regular reader of Teaching with Technology (thanks!) you know I'm a bit of a fan … and that may be a bit of an understatement 🙂 This month, I'm sharing another of my favorite education/edtech topics with you! What, oh what will it be?????? I've held you in suspense long enough. The topic of the November Mystery Post is … drumroll, please … HYPERDOCS!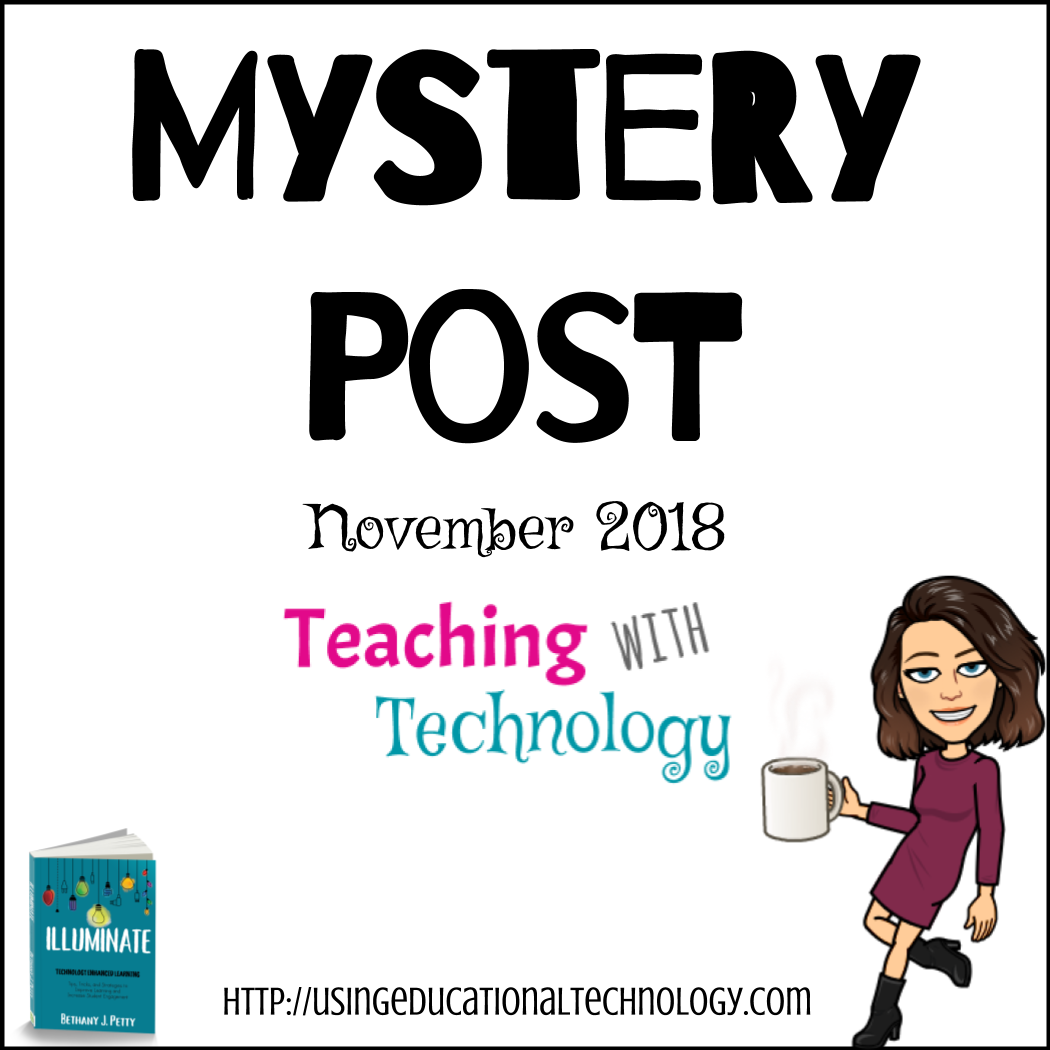 YESSSS! I love HyperDocs and I'm so glad I get to use them in my classroom. Here's a quick rundown of the why and how of HyperDocs in my classroom.
Why HyperDocs? 
Before I start gushing about the awesomeness of HyperDocs, it's important to think about and emphasize the "why" behind my use of HyperDocs in my classroom. When I create a HyperDoc for my students, I'm using the available technology to design a more individualized learning experience for my students. A shift has occurred in my classroom from "what is Mrs. Petty going to teach us" to "what am I going to learn today?" HyperDocs, like my flipped classroom, allow my students to work through content at their own pace. We review content every few days or as needed … we determine this by results from learning checkpoints and in-class formative assessments. The multi-faceted nature of HyperDocs work well with my flipped classroom, as well. The engage/explore piece provides my students with the opportunity to build background and peripheral knowledge of the content we're learning. When they're ready to move on, the explain piece, as its name implies, includes explanatory instructional video lessons that my students create through Edpuzzle. The apply portion requires my students to create a representation of what they've learned through a medium of their choice. Some HyperDocs also include a collaboration element in which students work through an activity together – primary source or landmark case analysis, etc. The share component allows students to gain feedback on their work from their peers while the reflection piece encourages my students to pause and think about what they've learned. Extension activities provide students with the opportunity to, again as its name implies, take what they've learned a step further while earning Bonus XP. Our review page includes Kahoot, Quizizz, and other review activities that students can use as content review for unit assessments.
The "How" of HyperDocs in my Classroom
Now you that I've explained the "why" behind HyperDocs in my classroom, it's time for the "how!" How in the world do my students use these HyperDocs for our units? I'm so glad you asked!
During the 2017-2018 school year, I utilized unit HyperDocs as opposed to HyperDocs for individual lessons. My students loved this model! They reported that they felt like they could move through the content more at their own pace, rewatch content and ask for help from me and their peers when they needed it. The main request that I received was that I provide them with specific due dates for completing components of the HyperDoc to help them stay on track. Ask and you shall receive!
Now, my students are given flexible due dates for each component of the HyperDoc – I actually hesitate to call them "due dates" … more like goals for each section. For example, all units start with a vocabulary activity – most of the time using Quizlet, Flippity, Kahoot, etc., where students are required to create something to help them learn their vocab. As a content area, Government is super-vocab rich, especially since the students haven't been exposed to the lingo yet in their education. Next on the to-do list comes the instructional videos. Students are given class time to complete these videos, and we aim to have a class formative assessment on video content every two days. This, of course, is a flexible plan and changes based on what my students need. Students also complete "learning checkpoints" at various points throughout the unit to ensure deep understanding of content. Next, students begin to create their "apply" project, reviewing important content as they do so. Reflection is up next, usually through Padlet or Flipgrid which provides me with MORE great data to drive instruction and review. Students are also encouraged to participate in extension activities connected to the content we're studying … our first unit of 2nd semester, for example, includes Congress. For their extension activities, students are encouraged to email an elected legislator (state or federal level) and ask a question … any question … that they'd like to have answered. It's so great to see their excitement when they receive a response!
Be sure to check out my HyperDoc posts here … and Chapter 9 of Illuminate!
Thanks for reading 🙂