Hello, and happy Friday! I'm back at work today after a lovely snow day yesterday … honestly, I was expecting to be out today as well, but we're here and making the most of it! On election day last week, my students completed an activity that required them to research proposed amendments and initiatives to our state constitution. These ballot measures ranged from allowing the use of medical marijuana, revamping our state redistricting plan, to permitting an increase in advertising for Bingo games. Yes, you read that correctly – advertising Bingo games. My students thought this was HILARIOUS! The fact that our state constitution will be amended to include a (hopefully) politically unbiased redistricting plan, the use of medical marijuana, and Bingo advertising. To celebrate the passage of this amendment, my students wanted to play Bingo in class and advertise it to their peers. Fortunately, Flippity came to the rescue with an easy-to-create and use Bingo template that allowed them to review concepts, apply their learning using examples of concepts in action, and of course, play Bingo!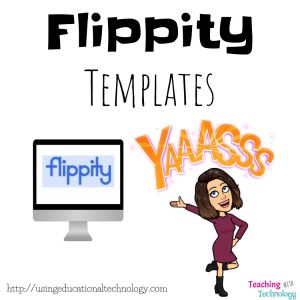 I first blogged about Flippity in 2014 when it was no more than a flashcard creator. Today, teachers and students can use Flippity templates not only to create flaschards, but also to track student progress, create crossword puzzles, word searches, scavenger hunts, Jeopardy-like review games, and of course, Bingo games.
To get started with Flippity, simply access the site and choose an activity template. When you select the template, you will be prompted to make a copy of the file because the templates are all Google Sheets. This means  -you guessed it!- you'll always be able to find the activities that you create, even if you lose the website link! WOOHOO!! When you've entered your terms and alternate terms, you'll publish the sheet to the web, then copy/paste the link in the appropriate tab. VOILA! You're ready to play Bingo! Flippity also
As I share in my book, Illuminate, Flippity really doesn't get the attention it deserves – teachers can use Flippity in so many different ways to enhance student learning. If you haven't tried Flippity, yet … put it on your "to-do-asap" list!
Thanks for reading 🙂