**This post may contain links to sites that, if you purchase an item from that site, may allow me to earn a commission.*
I am TERRIBLE at resolutions. There, I said it. I, like many others, start with noble intentions. I'm going to stop biting my nails – this has been a habit as long as I can remember. Or, I'm going to get up early every day to work out – I love working out, but I just can't get my booty out of bed early enough to do so on school days! I'm going to bound out of bed every day when my alarm goes off the first time – my kids (ages 5 & 7) still don't sleep through the night, so that one isn't going to happen!
Instead of making a resolution, breaking the resolution, and then beating myself up about not keeping said resolution, I'm taking a different route this year. If you're on Twitter and, by the way, YOU SHOULD BE ON TWITTER, do a quick search for #oneword2018. Instead of making resolutions, educators all over the world are choosing one word that they plan to focus on throughout the year. One word that will motivate them to set goals and crush them. One word that will hold them accountable on the good days and the less than awesome days.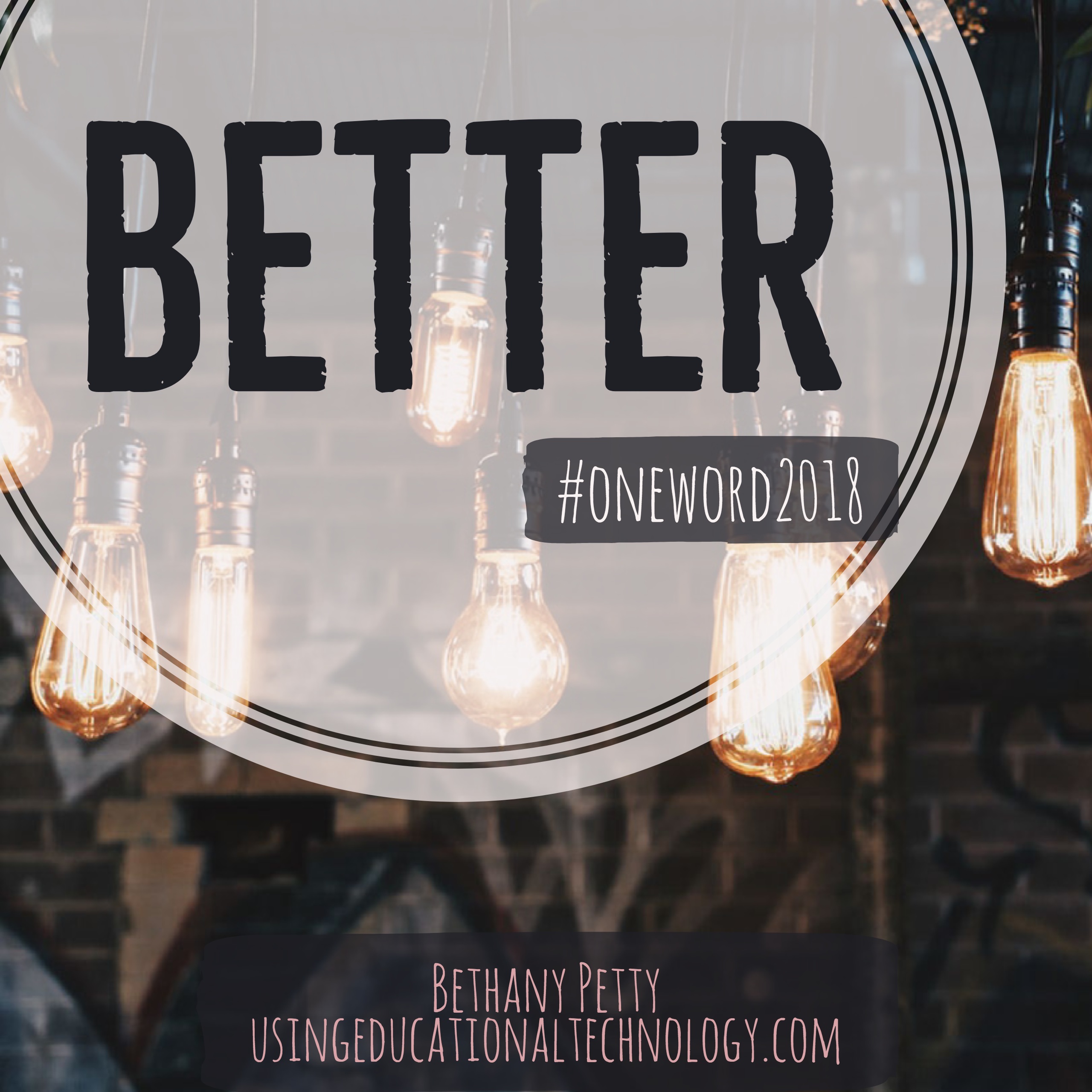 My #oneword2018 is BETTER.
BETTER has become my modus operandi for 2018.
I will continue to strive to be a BETTER, happier, more attentive and patient mommy. My daughters are my world, and I want to be the best I can be for them!
I want to be a BETTER wife to my awesome husband of almost 9 years. We've been together for almost 14 years, and I am so blessed by his love and support!
I want to be a BETTER teacher. My students deserve the absolute best I can be in the classroom to motivate and encourage them to achieve success.
I want to take BETTER care of myself in 2018. I run or workout at least 5 days a week and drink a nutrient-dense shake every day (I LOVE Shakeology!). But, I can always be BETTER! (By the way, if you're interested in trying Shakeology or another Beachbody product, I'd love to help you! Click here to go to my Beachbody site!)
I want to be BETTER with my daily devotions. My time with God is precious and oh-so-necessary.
How do I plan to crush these goals?
I'll be more conscious and present when I'm with my family. I will continue to learn and grow as a teacher by reading great books by other educators (my book will be out in May of 2018!!!), interacting with my colleagues from all over the world through my PLN, and trying new strategies to increase student engagement and enhance the learning environment. I will focus on making sure my cup is filled, so-to-speak, by taking time to make healthy choices and safeguarding my Bethany and God time every day.
I've got a huge challenge ahead of me in 2018, but I'm ready to crush it! Why did I choose BETTER as my #oneword2018 instead of something like GREAT, or AWESOME? The term BETTER implies that there's always work to do, and always something BETTER to be. And that's what I want to focus on in 2018 and … basically all the time.
What's your #oneword2018?
Thanks for reading 🙂