Every teacher knows what the rest of the world seems to misunderstand: TEACHERS DO NOT TAKE THE SUMMER "OFF." While not every teacher teaches summer school, or even gets paid during the summer months, teachers can rarely ever turn off their brains when it comes to preparing for classroom and curriculum …
If you're like me, summer presents a wonderful opportunity for …drumroll, please…professional development! This year, I am so excited to be able to attend ISTE and FlipCon15 virtually, from the comfort of my couch.
After a great PD session, I always feel a bit overwhelmed with all of the wonderful information I learn. I normally create a folder in my Drive and open a new Doc for each session I attend. This works well, an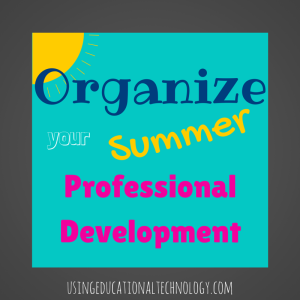 d is easy to share with my colleagues. However, this year I'm trying something different.
I've created a Google Form for my summer professional development that includes basic information about sessions I attend, such as the conference name, name of the presenter, URL of the presentation (if applicable), and then a paragraph text space for notes on the session.
One of my favorite features of Google Forms is that all of the responses are neatly recorded on a Google Sheet. This means that presenter and conference information, as well as my not so organized notes from sessions are all displayed in one place! I can easily share this Google Sheet with my colleagues, or use the information to develop PD presentations, etc. Awesome, right?!
If you're interested in viewing the form I created, please click here. If you'd like to use this personally, or with your colleagues, feel free to use the form as a guide to create your own.  If you're interested in COLLABORATING and sharing your PD experiences this summer, then complete the form and I'll share the results with you!!!
Happy learning!
Thanks for reading 🙂