Don't you love when you're sitting at your kitchen table on a Sunday morning, enjoying a cup of coffee (perhaps a second or third cup) when inspiration strikes?
Your heart pitter patters as the pieces of a neat project fall into place, and you frantically open a Google Doc to jot down the rough specifics.
Well friends, I experienced this wonderful feeling yesterday morning!!
My brainstorm project? Presidential Candidate Campaign Headquarters!
As a Social Studies teacher who spends most of the day teaching American Government or American Political Systems, I find myself torn by time. I don't feel like I have enough TIME to devote to educating my students about the presidential campaigns that have already taken over the mainstream media, as well as social media.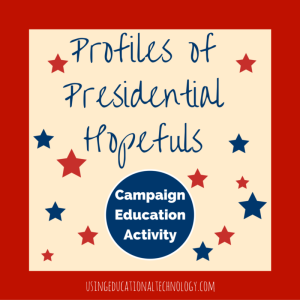 In an effort to capitalize on the creative abilities of my dual credit students and to educate not only those students, but their peers as well, I devised a quick little activity that…
introduces students to presidential candidates (picture, biographical information)
provides students with issues candidates are passionate about…in bite-size pieces
lists candidates' social media information…the language of our modern culture, whether you like it or not!
displays a QR Code that links to the candidate's website
The QR Code that links to the candidate's actual website is an extremely important feature of this activity. Students are so inundated with the he-said/she-said conversation that has befallen the presidential debate season that they barely see beyond what can only be described as a drama infused political comedy that draws ratings. (Can you tell I'm frustrated with the debates??) It is vitally important that students access candidate information from the candidates themselves, and their candidate website is a great place to look!
If you're interested in this activity, download it FOR FREE from my Teachers Pay Teachers store! (Free through November 3 at 7:00 PM CST) Also, check out my other items  that are ON SALE today and tomorrow!
Thanks for reading 🙂
[wp_ad_camp_2]