Google Forms are awesome. They just are.
The ability to link responses to a Spreadsheet and then manage that data is an indispensable tool for teachers.
A few weeks ago, I completely geeked out on Form creation…creating rubrics, self-evaluations, needs assessments, Bellringers,  and more.
What if you want students to complete the same form daily, or at least routinely. Pre-populating the form can help your students be more efficient with their form submission.
One of my favorite uses for Forms is the self-evaluation or group evaluation. After a project, assignment, test, or basically anything, I think it is extremely important to reflect upon performance…whether it be teacher or student.
Instead of creating a new self-reflection form for each assignment/activity, simply create a pre-filled form, and share that URL with your students via email or Google Classroom.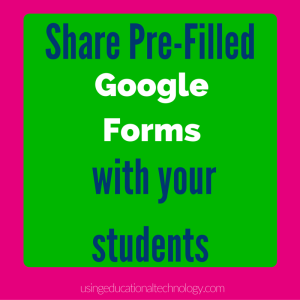 Of course, you could share the form without the pre-filled option with your students and tell them what activity/assignment they should include. However, many students and most adults may struggle with typing the exact phrase you provide…and you may eat up valuable class time repeating yourself 🙂
Note: Sharing a pre-filled form URL with your students is not like creating a new form, or creating a copy of the existing form. Therefore DOING SO WILL NOT create a new spreadsheet to collect data!
See the screenshots below…sharing the pre-filled URL will save you so much time!!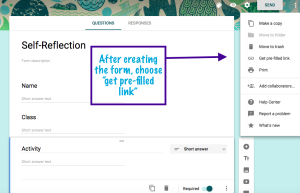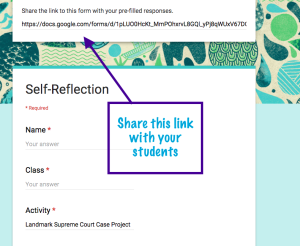 Thanks for reading 🙂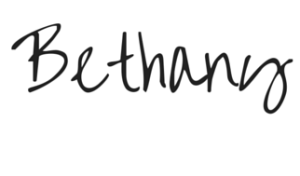 [wp_ad_camp_2]