Well, friends – I hope you're enjoying your "teacher's summer!" We all know the truth behind the myth of teachers having "summers off" … good one, right?! That's not to say we don't unwind a bit over the summer – and this is a well-deserved relaxation! My family and I had a wonderful vacation on the beach in South Carolina, and I thoroughly enjoyed drinking my Starbucks on the beach 🙂 This summer, I'm also having a blast teaching an online Technology for Teachers course and WRITING A BOOK! I am SO EXCITED to be writing an EdTech book that will be published by EdTechTeam! Can you sense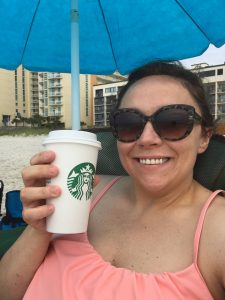 my excitement? 🙂
I thought it would be fun to share my stages of writing an EdTech book and ask a favor of you, as well!
Stage 1: I think I want to write a book
I've been blogging about educational technology for a little more than three years now and will be starting my 10th year in the classroom in August. I feel like I have some great ideas and valuable experience that I can share with teachers who are in all stages of EdTech-dom. I want to share a simple, but an important message with teachers around the world who are in the trenches with me during this awesome time in education – there are many FANTASTIC EdTech tools available (which can be slightly overwhelming!), but it's NOT about the technology you have, it's about how you use it to enhance the learning environment for your students. There is no magic tool that will in and of itself transform your classroom into an amazing learning space. You are the teacher and technology will never replace amazing teachers. Technology can enhance and elevate your classroom!
Stage 2: My book is going to be PUBLISHED!
When I read the email from EdTechTeam that they were interested in publishing my book … I SQUEALED. Out loud. In my classroom. Fortunately, this was during my planning period, so no one was around to see me jumping up and down and prancing around my room chanting, "EdTechTeam is going to publish my book!" I am SO EXCITED that this amazing group is going to help me share my message with teachers all over the world!!
Stage 3: Wait, I still need to write the book … 
I LOVE writing, especially about how I use EdTech in my classroom. However, writing a book is a tad different than writing 600 words on my blog. I can honestly say though that I am having a BLAST writing this book! You can expect it to read like a narrative – like my blog – and have practical examples of how you can use fabulous EdTech tools to engage your students in exploring, creating, collaborating, communicating, reflecting, and thinking critically, as well as how you as the teacher can design lessons, assess, and motivate your students with technology! As you can see, I have SO MUCH to share with you!
Stage 4: What the heck do I title this thing?
Here's where I need your help, friends. What do I title this book? I'm torn between two titles, and I need your feedback! Do you like … "It's NOT About the Tech! It's How You USE It! Tips and Strategies to ENHANCE your Classroom with EdTech Tools" OR … "Make Your Classroom AWESOME! Tips and Strategies to ENHANCE your Classroom with EdTech Tools"  I can't wait to hear what you have to say! Please click here to cast your vote! I'll be sure to update you on the results on Twitter and Facebook!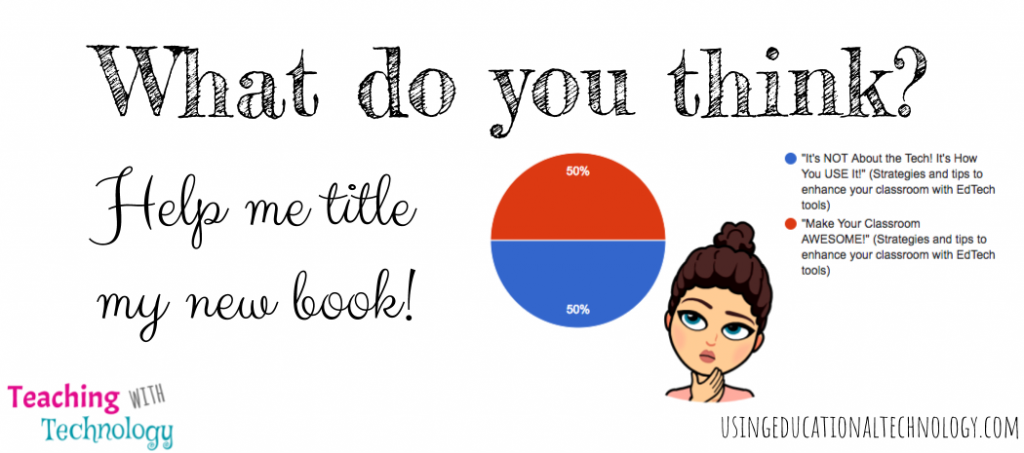 Be sure to join this mailing list for information and updates about my new book … whatever the title may be!
As always, thanks for reading 🙂