Are your students excited to learn new vocabulary?
Do they relish in the fact that many words with which they are unfamiliar will most likely make their way onto important tests, like the ACT and SAT?
Many students, at least in my teaching experience, are less than excited to learn new words. If students encounter a word in their text they don't understand, their first response is to ask the teacher, "what does this word mean?"
Would you like to engage your students more in vocabulary acquisition? Of course you would!
Check out Flashcard Monkey!
Flashcard Monkey provides customers with 500 flashcards that allow students to learn vocabulary commonly used  on the SAT in such a way that they can easily remember.
Jane Cui has created 500 flashcards that include…
-a specific term
-an example of the term in a sentence
-the definition of the term
-an AWESOME drawn picture of the word "in action"
The drawing is probably my absolute favorite feature of the flashcards on Flashcard Monkey, most likely because it reminds me of the "Government Pictionary" games I play with my students. Nonlinguistic representations are so helpful in learning new vocabulary words and course concepts!
And…they're fun 🙂
Flashcard Monkey provides 500 flashcards, geared to help students learn tricky vocabulary for $35. As Jane Cui shows on her site, that boils down to about 7 cents per flashcard…a steal for the great information provided.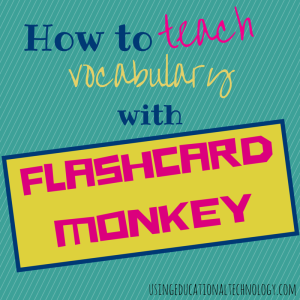 Jane even offers a 100% money back guarantee for her product.
These flashcards would be great for any class, but especially an ACT/SAT prep class, or even an English classroom. Imagine displaying these on a bulletin board, a chalkboard, or even as a border around your classroom.
Definitely include Flashcard Monkey on  your list of tools to check out this summer!
Thanks for reading 🙂