The availability of EdTech tools has transformed the teaching profession and has offered the possibility for our students to do amazing things! Check out this guest post by Ethan Miller concerning the various ways to teach English Literature in the 21st-century classroom.
---
The biggest challenge for every teacher is to transform a rather dry, uninspiring subject into something engaging and interesting for students. Over the years, there have been different styles of teaching. But every teaching methodology has an expiry date and the traditional teaching style as we know it is breathing its last breath.
Edtech is the present and future of our education system. The integration of technology with the curriculum has played a huge role in evoking interest among today's tech-savvy kids by allowing them to learn subjects like science, maths, and geography while having fun.
In these changing times of teaching and education, it is essential to bring a change in the way English literature is taught, analyzed, and assessed in order to attract more students. And the best way to make English literature appealing to the students of this generation is by introducing Edtech in the teaching process. Here are a few ways of making English literature interesting to students with the help of Edtech:
Teaching with memes
Unless you are living under a rock, I am sure almost everyone has come face to face with memes on the internet. Those funny images with witty text are a source for great fun for teenagers and young adults. What if you can use memes to teach English literature? I think memes are great for breaking the ice with your students before starting the lesson. For example: If you are going to introduce one of Shakespeare's plays, you could start with memes like these:
Memes can be used not just as icebreakers but also as a way to have fun with literature. For example: If your class has just read Shakespeare's Romeo and Juliet, perhaps a meme like the one below will really crack them up.
Once you demonstrate how memes can lighten up the English literature class, encourage your students to make their own memes and have fun with literature. It is to be noted the primary objective of memes in a literature classroom is to make the subject fun and relatable for today's young students. It shouldn't be considered as an irreverence towards the great works of literature.
Analysis through Digital Storytelling
For years, reading and discussions have been the mode of analyzing literature. While reading literature can be quite enlightening and discussions help to understand the deeper meaning of the text, it can be a daunting task for a novice reader. Here's where digital storytelling can come to the rescue by easing the lesson through the form of a story before the students actually read. With the help of images, text, music, and voiceover, one can easily summarize the book or play in the form of a simple story and get the students excited about the piece of prose that they are about to read. Digital storytelling can be used as a tool to assess the understanding of the students as they would love to document their understanding in the form of an audio-visual medium rather than writing a long assignment about it.
Audiobooks and  Audio Podcasts
Audiobooks are a godsend for reluctant readers. Reading can be a fascinating experience but trying to read the complex language often found in literature text can be exhausting at times. Audiobooks are wonderful tools for students to study English literature as it narrates the text with tonal shifts and pronunciation giving an all around experience of listening to a story. It helps the prose leave a deeper impact on the psyche of the students.
Apart from audio books, teachers should definitely check out audio podcasts as a means of student assessment. Instead of giving writing assignments, I encourage my students to articulate their understanding of the literature text in the form of audio podcasts. I found that students are happier creating audio podcasts than writing essays as it gives them the freedom to express them in casual tones, songs, and even rap.
Poetry apps
A discussion about English literature is incomplete without mentioning the abundance of classical poetry at our disposal. There are plenty of poetry apps on the internet that not only let you read some of the best poems in English literature but also help us understand the true meaning behind each and every line. POETRY from The Poetry Foundation is one such wonderful app that helps you appreciate poetry according to your mood. The purpose of reading poetry in English literature will be unfulfilled until it inspires students to express through poetry. By using an app called Instant Poetry, I encourage my students to summarize their understanding of classical poetries in their own words.
Movie adaptations
Visual medium is perhaps the most popular form of communication as today's teens are hooked to Youtube, Instagram, Snapchat, etc. And who doesn't love movies? But it is surprising how very few teachers utilize this craze for visual content in their literature classrooms. With so many musicals inspired from classic works of literature, a tea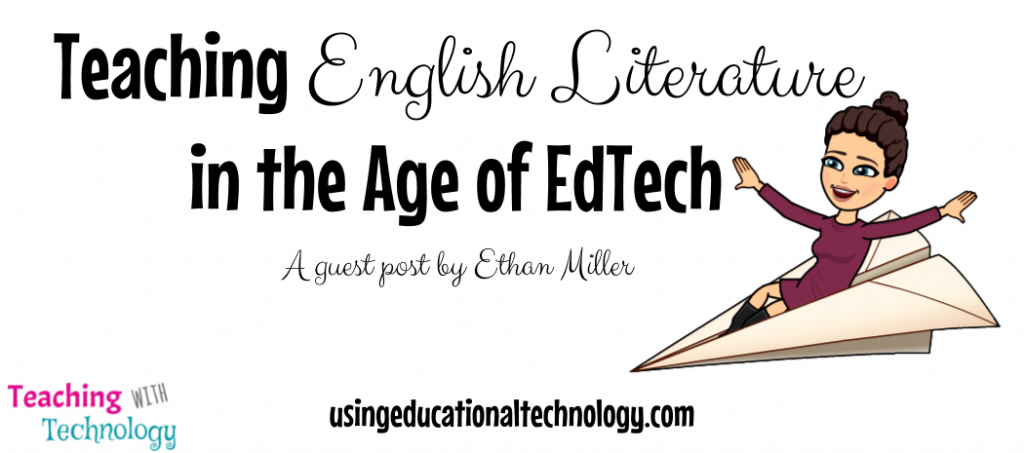 cher should organize movie sessions once-in-a-while so that students can understand the underlying inspiration that the movie has taken from the work of literature. It will not only help students watch the movie in a new light but it will also help them appreciate the beauty of English literature. I also encourage my students to submit projects such as their own video representations of literary fiction as it helps them explore the various layers of a story while having fun with it.
In a nutshell, English literature doesn't have to be a serious subject for students as Edtech allows us to have fun with learning prose, poetry, and nonfiction. These are just a handful of methods which I found useful in drawing the attention of students towards English literature. If you have other ways to add color to often falsely perceived monochromatic literature, please feel free to mention in comments below!
Ethan Miller is an online ESL tutor. Apart from his passion for teaching, he loves to write and holds a degree in creative writing. When he is not teaching or working on his book, Miller loves to blog and is a huge fan of educational technology. You can follow Ethan on Twitter and WordPress.
Thanks to Ethan Miller for this great post, and thank you for reading!