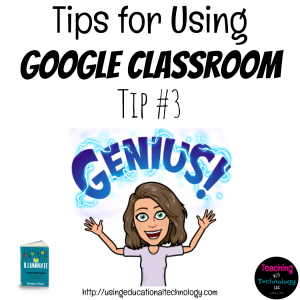 Happy Friday, all! If you're getting back into the classroom this week – welcome back! If you've been in session for the last three weeks like me, how's it going?! In case you missed it, I shared an image earlier this week (or was it late last week??!) with some tips for using the Share to Classroom extension. Be sure to check it out here if you haven't!
I started the Top Tips for Using Google Classroom series late this past summer and am excited to share with you the next installment – Tip #3!
A bit of a backstory – in addition to teaching high school Social Studies during the day, I also teach Educational Technology online for pre-service teachers. I'm a busy gal 🙂 The college uses a learning management system that is, lets put it this way, is not my favorite, and I've been allowed to use Google Classroom instead. PRAISE THE LORD! Since I teach multiple sections of the same course, I use a lovely trick when assigning work, posting announcements, sharing materials, and asking questions: select multiple classes!
When you create a post, simply click on the dropdown triangle next to the name of your class, and select all of the classes with which you'd like to share the post. Easy – peasy! This prevents me from forgetting to assign a specific resource or assignment with my classes and helps ensure that the assignments are the same name across all classes.  Also – it's a huge timesaver!
Keep sharing your favorite Google Classroom tips in the comments!
Thanks for reading 🙂