Hello and happy Friday! I'm writing to you today from the comfort of my kitchen table – yup, that's right! I took the day off! This hardly ever happens, but honestly, I'm not really "off" (are teachers ever really "off?!") … I'm at home catching up on grading, guest posts for other blogs, videos for my upcoming online course (yay!!!), and finally sharing Episode 3 of my podcast, Try This Tomorrow. Check out the show notes from this episode and be sure to listen to Try This Tomorrow: Talks with Teachers where you get your podcasts!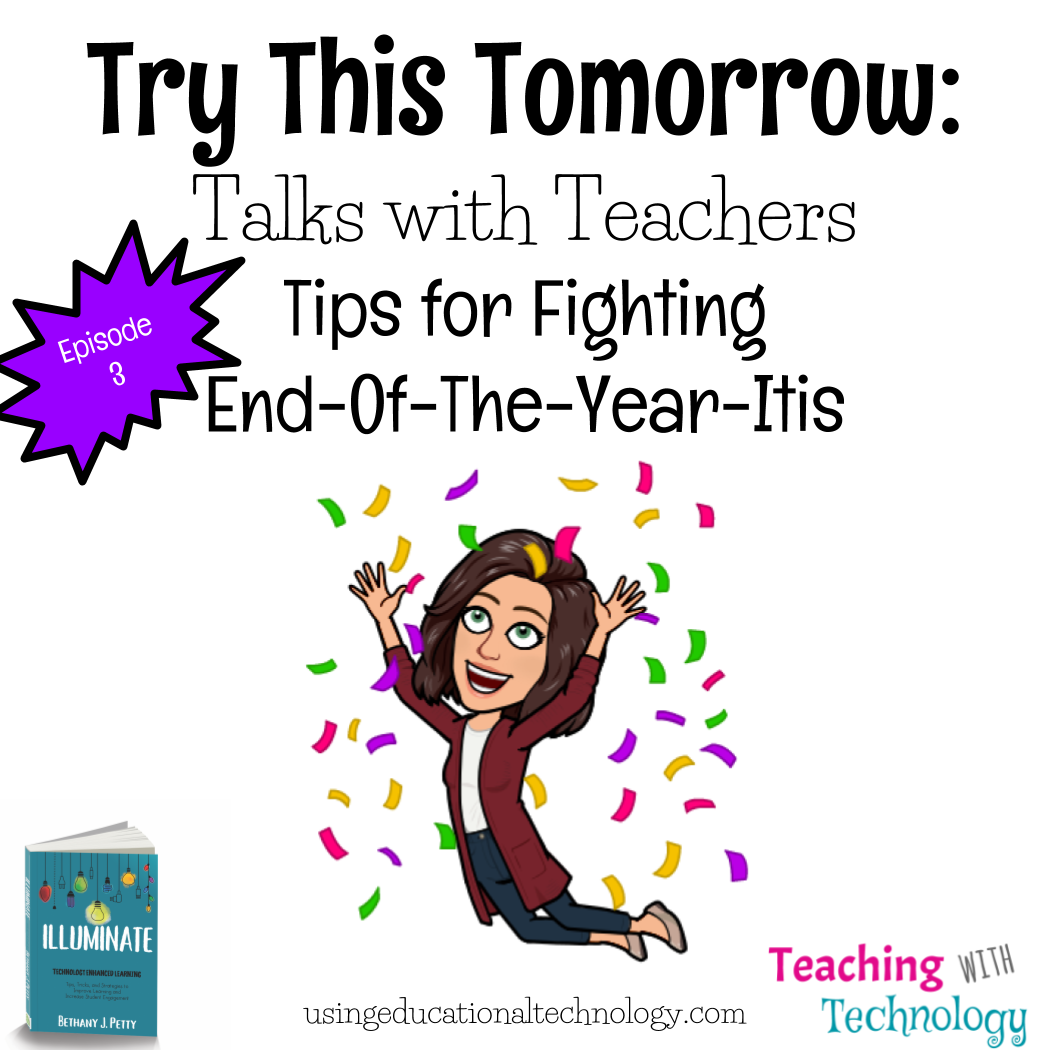 Episode 3: 3 Tips for Fighting End-of-the-Year-itis
Teachers and students alike often find themselves dragging a bit during the fourth quarter of the school year! In my case, the weather is getting warmer, the sun is out later into the evening, the birds are chirping, and my daughters just want to go play outside and have fun – same, ladies. SAME. However, my students and I are not only finishing up our curriculum but are also preparing/reviewing for standardized testing – that glorious time of the year that NO ONE likes. So, I'm trying to keep things engaging in my classroom by using fun review games like Flippity, Heads Up, Kahoot, Quizizz, Quizlet Live, and these fun activities, as well as "throwing XP around like confetti."
I also share a tip in this episode of something that I'm doing to shift my mindset from "I have to …" to "I'm thankful for …" It's something simple and quick that I can do in the morning when I get to my classroom or before I leave my house.
I hope these tips from Episode 3 will be the dry shampoo you need to help you push through the end of the school year! The dry shampoo part will make more sense when you listen to the episode – ha!
As always, thanks for reading & listening 🙂