Merry Christmas Eve, friends! My family and I just got home from Christmas Eve Church after our second Christmas celebration in as many days. We spend Christmas Adam, or Christmas Eve Eve (Friends is probably my favorite TV show of all time!) with my husband's side of the family, Christmas Eve with my Mom's brothers and my cousins at one of their homes in St. Louis, and then spend Christmas Day at my parents' house with my Dad's sister and my cousins. The day after Christmas has also become a quasi-holiday in our family because we go "Day After Christmas Shopping" with our stocking money from my parents. Yes, my sister and I, along with our husbands still get money in our stockings from my parents – we're very spoiled and very thankful. This brief post is the beginning of my Christmas present to you – a new podcast for teachers!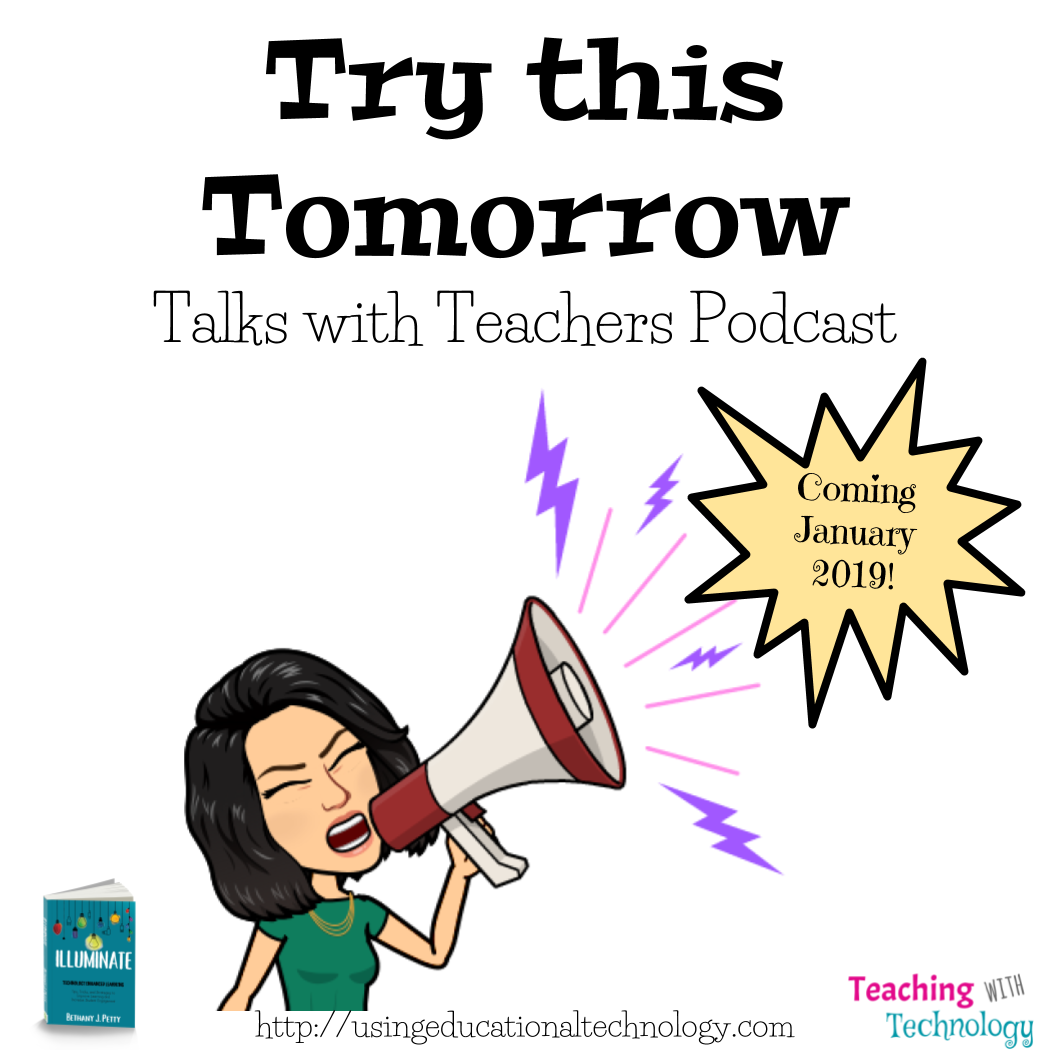 That's right! My new podcast, Try this Tomorrow: Talks with Teachers, will debut in January of 2019 which, in case you're like me and have totally lost track of December, is in just a few days! The goal of my new podcast, just as with my book, Illuminate, is to provide teachers with actionable and practical tips that they can use in their classroom to enhance student learning. Yes, there will be technology tips (the title of my podcast comes from the end of each chapter from my book!) but the Try this Tomorrow won't be limited only to technology integration. Each episode will also feature fun stories from the trenches, tips for juggling the busy lives that teachers lead, favorite resources for teachers, and of course, teaching tips that teachers can implement in their classrooms immediately.
I hope you'll join me and my guests on this super-fun podcast! All of the episodes will be available here along with an outline that highlights the main points from the discussion. You'll also be able to listen to Try this Tomorrow: Talks with Teachers wherever you get your podcasts.
Check back soon for more information!! I'm SUPER excited to dive into the world of podcasting in 2019! What new adventures will you begin?
Thanks for reading 🙂