Happy Sunday, all! I hope you've had a great weekend and are ready to tackle the week ahead. I'm making a point today to get my mind right, if you will, to focus on having a positive week because last week was … well, let's just say it was a doozy. Do you ever have those days or weeks that leave you feeling mentally and physically drained? I came home Thursday afternoon and took a nap. That NEVER happens! Apparently, my body needed some rest! I also had a root canal Wednesday afternoon, so that may have had something to do with it! By the time Friday morning rolled around, complete with a department meeting that took nearly my entire planning period, I decided that I needed something new to boost my mood. This was the perfect day to experiment with Blooket in my classroom! Have you tried this newbie to the EdTech scene? Here's how it works!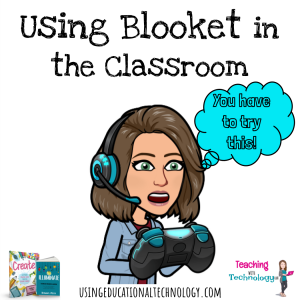 I'll admit, at first glance, I almost wrote off Blooket as a tool that was geared more toward the younger grades. Friends, save yourself the regret and DON'T DO THIS! I teach juniors and seniors and they LOVE BLOOKET!
To get started, obviously head over to Blooket and make an account. Blooket, like so many other fabulous tools, offers the ah-mazing option to sign in with Google. I normally suggest choosing this option to avoid having to remember yet ANOTHER username and password combo – let's be honest, FORGET another username and password! – but, this is one of those tools that plays well with another favorite of mine – Quizlet! So, if you create your Blooket account with the same GSuite account that you used to create your Quizlet account … let's just say it'll make your life a bit easier 😉
Now that you have an account, it's time to create your first activity! Here's a step-by-step guide that can LITERALLY BE DONE IN LESS THAN 5 MINUTES!
STEP 1: Create a Game
The create icon is the box & pencil image at the top right of the screen. At this first step, you'll add a title and can choose a cover image for your game, add a description, choose a privacy setting, and determine how you'll add content to your game.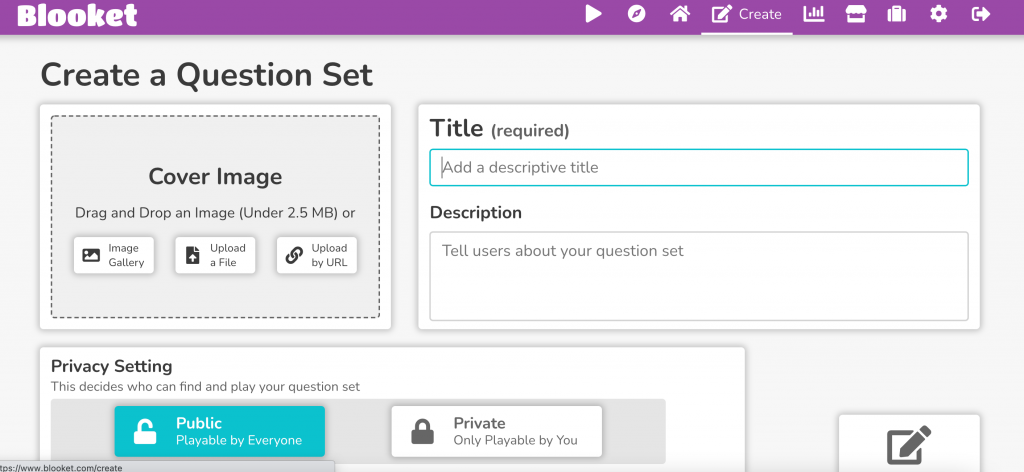 Choosing "manual" allows you to create your activity on Blooket from scratch, whereas "Quizlet import" allows you to … you guessed it … import from Quizlet! Whichever option you use, you'll need to click the "Create Your Set" button to move forward in the process.


STEP 2: Import from Quizlet
While both options are super easy to use, when I created my first game on Blooket, I chose the Quizlet import option because, well, I was doing this about 5 minutes before class started! Here's what you get when you click this option: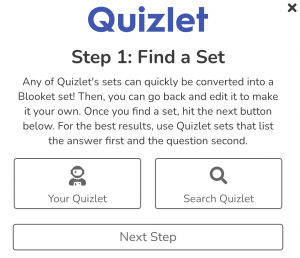 One of the best parts of this feature is that users can either choose a Quizlet deck that they have created within their own Quizlet account OR can search for the deck they'd like to use on Quizlet. No need to reinvent the wheel if you don't want to!
If you choose the Quizlet option, you'll be taken to your Quizlet account. Then, you'll choose a deck that you have in your account and click on the three little dots on the deck to view additional options. Pick "export."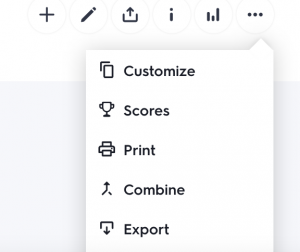 The export option will bring you to this screen. Select the "copy text" icon which will copy your terms/definitions to your clipboard.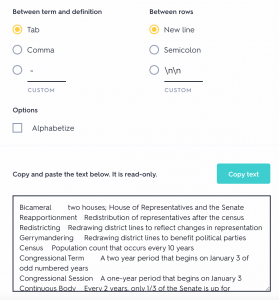 The third step in this process requires you to simply paste your copied work into the pop-up box and select "add questions."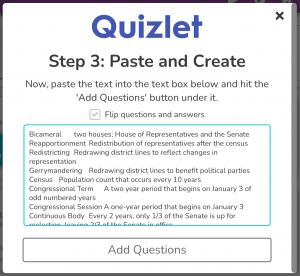 STEP 4: More questions? Yes? No? 
See! That's really easy, right? Once you've added your questions, you'll be brought to a screen that gives you the option to add additional questions. I use this option to add questions as we proceed through our unit. If you'd like to add more questions, click "add question." If you'd like to import additional questions from Quizlet, select "import from Quizlet." At this screen, you'll also be able to set the time limit for each question, change the order of the question, or duplicate the question. If you're happy with the questions, just save your set.
STEP 5: PLAY!!! 
See?! It really is super easy! When you're ready to play the game, you'll choose the game mode. Some of the game modes are available for "live" play, which is perfect for synchronous activities (in-person OR virtual learning), others are "homework" mode (you assign the game and share the code with students to play outside the classroom), or both! The current favorites in my classroom are Tower Defense and Gold Quest!
Give Blooket a try! Your students will love it!
Have a great week and thanks for reading 🙂