Unless you've been living under a rock for the last year and a half, you know that this is an election year. Not only is this a Congressional election year, but this year, we are also charged with the enormous task of electing a new President of the United States – and leader of the free world.
No big deal, right? 🙂
As a teacher, I feel that it is my job to not only guide my students through the content of my course (this is probably the smallest part of the teaching profession) but also to model for them how to be a productive and contributive citizen in our ever growing and changing society. Part of this goal is helping my students be cognizant of the political world, without interjecting my personal political beliefs and opinions.
Wow, is that hard! However, teaching them how to think and not what to think is vitally important.
Here's where Countable comes into play.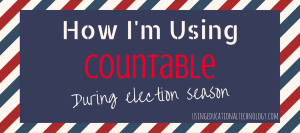 Countable is a FREE tool that presents information from the political world in bite-sized pieces of readable text that citizens can actually understand. From my limited experience, reading an actual bill passed by Congress is a tad like reading the King James version of the Bible…beautifully written, but difficult to digest. Countable presents high-profile bills being debated in Congress with not only a catchy title but also provides easy to understand perspectives on the bill from BOTH sides of the aisle. Countable aims to provide information from a non-partisan point of view, which is refreshing. For more information on their goals, editorial process and more, check out Countable's website.
When you create your FREE account with Countable, either via their website or app (iOS or Android) simply enter your zip code to find your elected representatives. Then, choose from a variety of issues and political candidates to follow. Receive alerts via email or through the Countable app when your representative or someone you follow votes or posts an opinion about an issue.
AND…drumroll, please … Countable users can even share their opinion on bills with their Congressman! Countable will send an email to Senators/Representatives when a Countable user has submitted an opinion … this only works if you are logged in and have verified your email address 🙂 This feature is especially neat not only because Countable users can view their Congressman's voting record, but also to view how their opinions line up with their elected representatives.
Countable also offers "Advocacy Widgets" for users to include on their websites that ENCOURAGE readers to interact with their elected representatives! How cool! Check out the widget on the right side of this page (toward the bottom) to interact with your Congressmen!
Countable is obviously a great tool to use in your classroom. Encourage students to not only be aware of the political world around them, but also engage with their elected representatives and express their opinions. It's pretty great.
If you're looking for a great tool to help your students stay updated on the workings of our government officials, definitely check out Countable!
Thanks for reading 🙂