Chrome extensions are fantastic additions to your already awesome Chrome browser. I've written before about some amazing Chrome extensions, but I've recently started using even more, and I feel like I need to share!
Padlet Mini
I've also written extensively about the many ways I use Padlet in my classroom. Until recently, I had never really devoted much attention to the Padlet extension, and I'm so glad I've started using this great feature. By installing the Padlet extension, any website can easily be added to any Padlet wall you have created … without leaving the browser! No more copying and pasting URLs to a Padlet wall. You can even create a new Padlet from the website you're visiting! Super!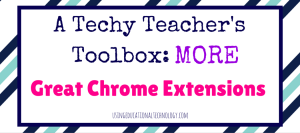 Google Drive Quick Create
Google Drive is an amazing tool. However, sometimes I just want to create a document/presentation, etc. without having to open a new tab, locate my Google Drive, or even click on the Google Drive bookmark in my browser, click new, and the steps go on. Yes, I know this may sound lazy or like a "#firstwordproblem," but the Google Drive Quick Create extension has solved this issue for me. Simply install the extension, click on the extension, and open a new file of your choice. Voila! It's really that simple. No need to worry about signing in to the correct account, or re-entering your email address/password combination. As long as you have signed in to the Chrome browser (which you should be!), Google Drive Quick Create recognizes your account and adds the file to your Google Drive. Yippee!
Grammarly
I consider myself to be pretty slick when it comes to grammar, spelling, and punctuation. I'm sure if you looked at the previous sentence, you would probably disagree with my use of the oxford comma, right? Sorry. I just have to do it! Grammarly, however, has saved the day many times in my writing (blog posts, emails, comments on student work) simply by underlining questionable words, phrases, or punctuation with a red or green line. Just think of one of the good features of Microsoft Word … those red and green squiggly lines helped many of us through college!In addition to correcting many errors in language, Grammarly indicates which grammar, punctuation, or spelling rule your particular mistake has violated. Simply install the Grammarly extension, and feel more confident in your writing 🙂
Participate Learning
Participate Learning is an amazing website for teachers … if you haven't checked it out, please do so NOW! The resources available through Participate are indispensable for teachers, and it couldn't be easier to use. Simply make a FREE account and begin searching Participate's database for iOS, Android, or Chrome apps to use in your classroom. Search by device, content area, or grade level, and create resource collections to share with anyone. Participate not only helps teachers curate fantastic resources but promotes collaboration outside the four walls of our school building, as well. It's fantastic! Recently, participate has introduced the Twitter Chat feature … which just keeps getting better and better! Read more about this great tool in my recent post about using Participate Learn to explore Twitter chats! The Participate Chrome extension allows users (once logged in via the Participate site) to add resources to collections without navigating away from their current tab. It's great!
RefMe Webclipper
This tool isn't necessarily for teachers … unless you are a teacher who is furthering your education! RefMe is an absolutely AH-MAZING citation tool that I have been sharing with my students throughout the course of this year. There are so many wonderful features of RefMe including …
create bibliographies for FREE
SAVE your bibliographies
COLLABORATE with peers just by inviting them via email
SCAN print source barcodes and add those resources to any bibliography INSTANTLY
and … the WEBCLIPPER!
Simply install the RefMe Webclipper extension to add web resources to your bibliographies INSTANTLY! Seriously, share RefMe with your students … where was this tool when I was in college?!
Handy tip for managing extensions…sometimes, the sheer volume of extensions we have on our browser can seem a tad overwhelming. Simply sliding the O

mnibox on your Chrome browser can allow you to view fewer extensions if you choose. Use certain extensions more than others? Select and hold the extension and then drag it to the location you desire.
Thanks for reading 🙂