I love Twitter chats. They are amazing question/answer professional development sessions that allow educators to learn in their sweatpants from the comfort of their couch…at least that's how I professionally develop!
However, as much as I love to participate in Twitter chats, and seriously value their content, I also have two wonderful little girls and a pretty great husband. Sometimes, I just don't have time to really participate in these chats! Instead, I hang out with my awesome family!
Enter, Participate Learning!
I've been talking about this great site pretty much since the beginning of my blogging journey in January of 2014. Participate Learning started as a website that allowed teachers to search for and curate information about educational apps…they went by Appolearning previously, and you can find great information about Participate Learning if you search that term on my blog 🙂
Participate Learning is still an amazing resource for teachers looking for great websites and apps to use in their classroom. In recent months, however, they've definitely filled a need in the realm of professional development via social media with their Twitter chats tool.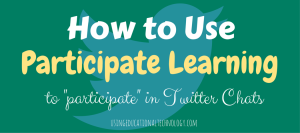 If you've never participated in a Twitter chat on Twitter, I highly suggest that you do so asap. The downsides to these chats, in my opinion are 1. making time to read and interact on Twitter at a specific time of day or evening (it's definitely possible…just not incredibly easy for this mommy of two little girls!) and 2. sometimes it's hard to keep up with the questions/answers during the chat, especially if you enter after it starts.
This is where Participate Learning offers a huge possibility for teachers!
The Twitter chats feature on Participate Learning allows teachers to engage in Twitter chats directly from Participate's website. Teachers can also view "tweechers" (teachers who tweet…hahaha! I totally just made that up!) who participate in specific chats and choose to follow them from Participate's website. I followed a few more #sschat members this way earlier today!
It's also incredibly simple to take part in Twitter chats via the Participate website. Simply choose your chat and enter your comment. That's it!
The Twitter chats feature also makes locating resources shared in the chat extremely easy to locate. I tested this earlier today by sharing a post from my blog…as soon as I posted my comment (with post URL of course) my post popped up in the resource category on the left of the screen. Awesome!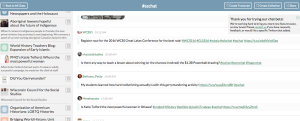 While perusing the resources of the chat, you can add those resources to your existing collections on Participate, and can also easily create new collections from the chat screen.
Create transcripts of specific Twitter chats by specifying the date/time period, and then revisit your transcript later. You can even share your chat transcript via social media!
If you're like me, you tend to forget about all of the hashtags and Twitter chats that you want to follow…Participate lists dozens of Twitter chats AND will add hashtags submitted by YOU!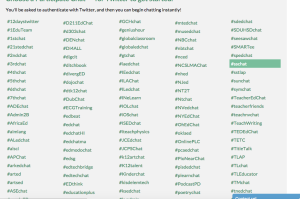 Why do I chose to search Twitter chats via Participate Learning?
It's EASY to use!
–Simply log in and choose a chat. It doesn't get much easier than that!
Collaboration
–Being able to easily share resources I've found is fantastic.
Resources
–Any link that is shared in a Tweet during a chat is stored on the side of the page in the Resources section. I can click on any resource, go directly to that site, and save or share it. So easy!
FOCUS
–I doubt I'm alone in this problem, but sometimes, when I'm on Twitter, my mind wanders and I don't necessarily focus on the information I set out for. This is a great problem when it ends in finding new information or a neat idea to use in my classroom. This is an actual problem when my Twitter searches lead me to look for Once Upon a Time spoilers, which has been happening frequently as of late…seriously though, the season doesn't resume until March!!
If you haven't checked out this great new addition to Participate Learning yet, please do!
Thanks for reading 🙂