Hello, friends! I hope you're having a fantastic summer and are finding time for some much needed and well-deserved R&R! My family and I have just returned from a weekend of fun and family time in Branson, MO and we're prepping for the week ahead. On our four hour ride home through the Ozark Mountains (thank you, Lord, for Dramamine!) we talked about setting goals for the week. Our conversation focused around what we want to learn or accomplish throughout the next week, and a comment from my oldest daughter really had me thinking about how teachers – and parents – can leverage the power of technology to reach an authentic audience.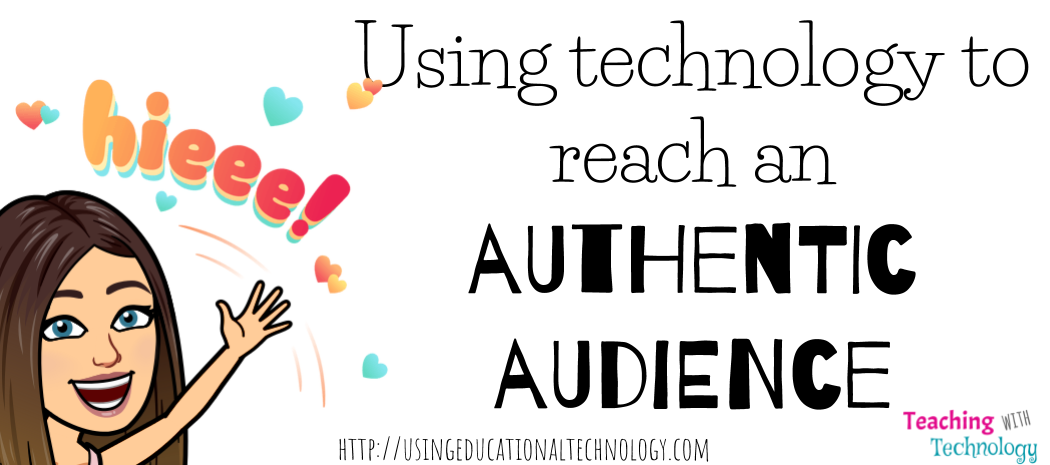 A little background – my oldest daughter, Hanna, will be entering 2nd grade this fall. She's brilliant and beautiful and wonderful and amazing – the list goes on and on – but she isn't a huge fan of reading. She's a fantastic reader, don't get me wrong. The kid is reading almost two grade levels ahead of her age, but she just doesn't love reading. As a reader, it hurts my heart that she hasn't been bitten by the reading bug. But, we're working on it. Last summer, when Hanna struggled with wanting to read, I asked her if she wanted to create a blog about the books that she reads (check out Illuminate for ideas on how to get started with book blogging for kids!) and, after hearing her goals for the week, I think we're going to build upon that idea this summer.
I asked Hanna if she wanted to add book reviews to her blog about the books that she reads. After explaining what a book review is to her – and then calling my mom (an upper elementary/middle school ELA teacher) to figure out a different way to explain the concept, because she wasn't quite getting it – I saw a gleam in her eye. She's excited about adding to her blog this summer!
The component of the book review idea that really sparked Hanna's interest was that the not only gets to use Mommy's flair pens to create a poster but that she gets to put her reviews on YouTube. When she blogs about the books that she reads, I also record her reading her book and put it on YouTube — I add her videos in "private" mode. When we talked about adding book reviews to her site, she said, "can you put it on YouTube so I can find it? I want to see how many thumbs up I get." That comment really put into perspective the great motivator that authentic audiences provide for our students. Hanna is going to create the best product she can and use technology to share her work with her authentic audience. She's a 7-year-old who wants to share her work with the world. How cool is that?
I'll be sharing Hanna's reviews with you soon — be sure to give her a "thumbs up" on YouTube when you see it 🙂
What about my youngest daughter, you ask? Molly's goal for the week is to "learn to read," so I said we would start with some sight words and build from there. Molly said, "ok, so my 'scores' for the week are to learn to read and work on sight words." She's a soccer sister 🙂
Check back next week for a new series I'm working on — the F.I.E.R.C.E teacher series.
Thanks for reading 🙂