Welcome to the first post of the six-part blog series I'm calling, "F.I.E.R.C.E Teaching." F.I.E.R.C.E, as you may have guessed, is an acronym that I hope to use to share my goals as a teacher and encourage others to continue being awesome for our students. Without further adieu, welcome to F.I.E.R.C.E Teaching!
We were on our way home from our family weekend getaway a few days ago, and I was using the time on the road – with a dead Macbook – to brainstorm ideas for my keynote next month. I kept bouncing around the idea of being a "fearless" teacher, but wanted to come up with an acronym to make my message "sticky." Fearless just didn't work as a focus word because, let's face it, there are too many letters. My oldest daughter plays on two soccer teams, one of which is called Fierce – her team name popped into my head and F.I.E.R.C.E was born! What does it mean to be a F.I.E.R.C.E teacher? Let's start with "F"
FUN 
Think back to your favorite or least favorite class while you were a student. What made this class your favorite? What didn't you like about this class? Most likely, your opinion of the class was, at least in part, crafted (probably unintentionally) by the teacher you had. If your teacher was happy and excited to be teaching their content, your experience was probably positive. If your teacher seemed as though they hated their job and trudged through their day, you probably hated the class. If your teacher made great efforts to make the classroom learning environment fun and engaging, you probably had a great learning experience. If teachers are excited about the content they teach and the fact that they are teaching students, their students will probably enjoy learning. See what happens? If you have fun teaching, your students will feel that in your classroom and have a better learning experience. You probably didn't become a teacher because you don't like your content or the concept of teaching. Encourage your students to have fun learning in your classroom by having fun in your classroom – seems simple, right?!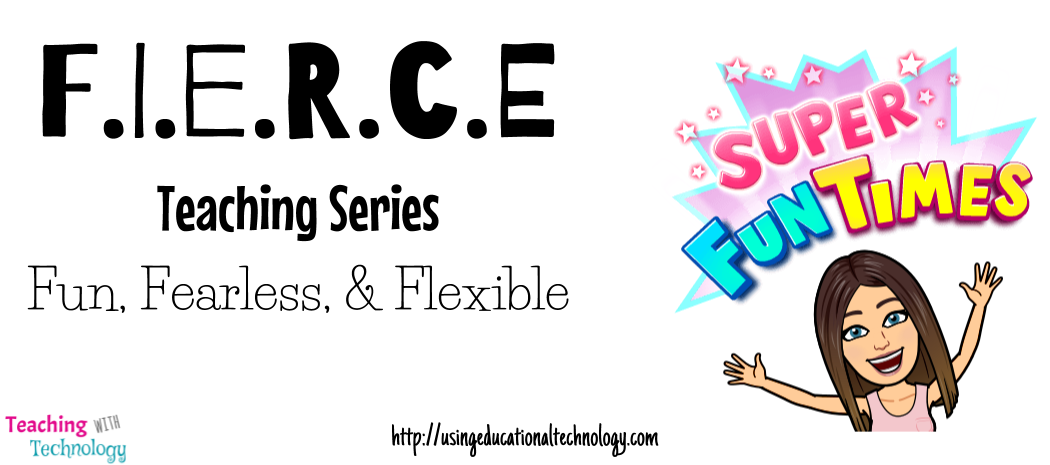 FEARLESS 
I make a point in my classroom to try new strategies, apps, tools, and ideas to create an engaging learning environment for my students. But, sometimes it's downright scary to try new things, especially if you're on your own. When I decided to flip my classroom a few years ago, I was the only teacher in my building experimenting with this strategy. I got pushback from many people about this new strategy. I could have easily said, "you know what, I'm too intimidated by the fact that I'm on my own with this strategy … I'll go back to the old way." Thankfully, I didn't. I embraced the fear I felt because I feel that trying something new and different (as long as it's in the best interest of my students) is going to be scary – but it just may be awesome. It's been my goal to be fearless in trying to be innovative in my classroom because it's not about me and my fear of something going wrong – it's about how these changes positively impact my students.
FLEXIBLE 
The biggest lesson that I've learned as a teacher is that we must be flexible in our classroom learning strategies. Everyone is not going to learn the same way, at the same speed, during the same class period. When I started teaching ten years ago, I resorted to teaching how I had been taught. I stood in front of my class, talked at my students for 50 minutes, and saw any sign of talking or questioning as a reflection of my classroom management skills. YIKES!  Flipping my classroom has allowed me to be more flexible and adapt to the needs of individual learners. Maybe a student doesn't quite grasp the concept I'm teaching the first time they're exposed to the material – they can view it again. Maybe the way I explain the concept in the video just isn't sticking – we can create a song about the concept as a class. Maybe they like to write an essay to show what they've learned – go for it. Maybe they'd rather create a graphic organizer, game, or screencast to demonstrate their knowledge – I can't wait to see it!
Having fun, being fearless and flexible in the classroom are a few goals that I have for myself as a teacher. Check back soon for the rest of the F.I.E.R.C.E teaching series!
Thanks for reading 🙂