I started blogging in January of 2014, and ever since, I've been asked these questions…
Why do you do it?
I started my EdTech nerd blog for a few reasons. First, I wanted a way to reflect upon my journey as I attempt to become a 21st century educator. As a teacher, I feel reflection is hugely important, and blogging is the platform I chose to use to do it.
I also wanted to share the cool tools and instructional strategies I find/use with other teachers. I've found that when I share my experiences with others, I receive advice, insights, and encouragement from other teachers around the world. Blogging has allowed me to "meet" so many new people and make connections with teachers and EdTech companies, which I think has contributed to my growth as a teacher.
How do you have time?
Hahaha! I don't. Does anyone really have time for anything, though? As a wife and working mother of two amazing little girls, I don't feel like I ever actually have time to do anything, and I wouldn't want it any other way. If I want to accomplish something, I need to make time to do it. I never have time to read a book, but I try to read at least a little bit every day. When I'm at home with my family, I don't feel like I have time to create instructional videos for my flipped classroom, but I carve out 7-9 minutes when I have to in order to make my 1 take instructional videos for my students. (More about 1 take videos, later!) I don't have time to do laundry and clean my house…ok, maybe I just don't want to 🙂
In case you're wondering what my point is…I write this blog because I want to be a better teacher, and I think reflecting and sharing resources are steps toward that goal. If anyone wants to become better at anything, they have to make time to do it.
So, if I have to drink an extra cup of coffee (or two) to stay up after my kids go to bed in order to blog, so be it. I love coffee anyway 🙂
Recently, a few of my readers have asked me for advice about blogging…wow! Here are a few pointers I've picked up from the past year:
Start small

Create a free blog with Blogger or WordPress. I wouldn't sink a ton of money into a side project, at first

Don't expect to become a millionaire

When you start blogging, do it because you want to and you have something to say. Don't start blogging to make tons of money so you can quit your day job…at least at first 😉

Write when you have something to say

If  you don't have something to say, saying nothing is better than producing bad content…I think

Be genuine

Let people who read your blog see your personality through your writing. Don't try to write like your favorite blogger or author…write like you!

Write about something you LOVE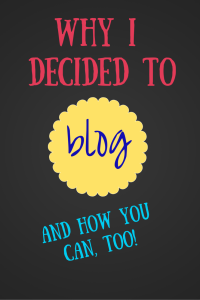 I am by no means an expert, and am flattered that I was asked for advice!!!
Check back soon for my thoughts on the "One Take" instructional videos!
Thank you so much for reading!!