It's Christmas break!!!!!!! Woohoo!!!!
I'm sure many of you reading this post share in my enthusiasm for this wonderful time of the year. The two week period (give or take a snow day) during which we wear sweatpants all day, rock the just rolled out of bed hairdo, play with our kiddos, take naps, and of course…drink inordinate amounts of coffee. That last characteristic is most definitely me every day, though 🙂
Christmas break also brings a reflective time period for this coffee fueled life form. Time to sit back and think about how the strategies and tools used during first semester actually worked, because everyone knows there's virtually no time to reflect during the semester!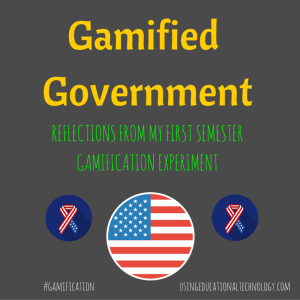 On to my gamification reflections!
This semester, I decided to "gamfiy" my class..a concept I tried during one chapter in the 14-15 school year. This was very well received by my students during that unit, and their only complaint was that we weren't going to continue our "mission" throughout the remainder of the year.
I really had NO CLUE that a gamified token economy, which is basically what it is, would be so popular with high school students.
But, it is.
Here's a quick rundown of "Mission: American Government."