It's Christmas break!!!!!!! Woohoo!!!!
I'm sure many of you reading this post share in my enthusiasm for this wonderful time of the year. The two week period (give or take a snow day) during which we wear sweatpants all day, rock the just rolled out of bed hairdo, play with our kiddos, take naps, and of course…drink inordinate amounts of coffee. That last characteristic is most definitely me every day, though 🙂
Christmas break also brings a reflective time period for this coffee fueled life form. Time to sit back and think about how the strategies and tools used during first semester actually worked, because everyone knows there's virtually no time to reflect during the semester!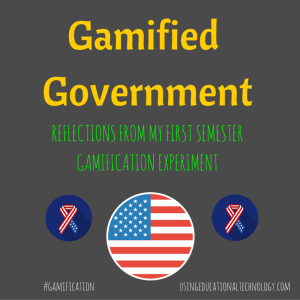 On to my gamification reflections!
This semester, I decided to "gamfiy" my class..a concept I tried during one chapter in the 14-15 school year. This was very well received by my students during that unit, and their only complaint was that we weren't going to continue our "mission" throughout the remainder of the year.
I really had NO CLUE that a gamified token economy, which is basically what it is, would be so popular with high school students.
But, it is.
Here's a quick rundown of "Mission: American Government."
Students earn XP for the following activities…
Completing instructional videos on time
Completing unit instructional activities on time
Coming to "study sessions" for tests
Finishing in the top three on review games (Kahoot, Quizizz, etc)
Other random activities throughout the unit
Students can earn one badge per unit for scoring at least an 80% on the unit test the first time they take it. Students are always allowed to retake a unit test to increase their score, however awarding badges to students for scoring an 80% the first time has proved (in my classroom) to be an extra incentive for students.
When I started the "game" at the beginning of the year, I took an informal poll among my classes asking if they would rather have a physical badge or a digital badge if they earned at least an 80% on their exam. The response was overwhelmingly in favor of the physical badge…which also surprised me.
I'm also extremely surprised that less than 1% of my roughly 60 Government students have actually misplaced their badges…and they completely panic if they do so. (I've given replacement badges to these students…no worries!)
In case you haven't noticed…tons of surprises were in store for me this semester!
It amazes me how excited students become about earning XP. They come to my classroom early in the morning, or stay after school, to play review games that they could play at home just to earn XP. All of my students have leveled up  at least to Ruby (which is level 2) and one student has achieved Emerald (level 3).
Many students have even bookmarked the spreadsheet I shared with them which includes all of their XP and levels.
Students also got REALLY EXCITED about choosing a gamer tag…and some of them are just awesome!
I am so happy I decided to jump on the gamification bandwagon. Student motivation (among most, not all of course) has skyrocketed. My dual credit students have gotten a tad jealous that I only gamify my Government classes and not their classes. Which to me means that I've found something that motivates my students! Woohoo!
In the gamification realm next semester, I'm interested in…
Creating "quests" for my students
Coming up with a year end activity or mission for my students who've earned badges…a few ideas are swirling in my head, but nothing concrete!
I MUST read eXPlore like a Pirate…which I recently learned about from Twitter. (Seriously, are you on Twitter, yet?)
I'd love to hear about your gamification experiences in your classroom. Please share your ideas in the comments!
[wp_ad_camp_3]
That's all for now…check back soon for reviews on some awesome EdTech products!
Thanks for reading this super long post 🙂