*I received Calm Strips to review for this post*
Happy Friday, friends! I'm writing to you today after our Friday night dinner tradition at our favorite Mexican restaurant! I'm normally a fairly healthy eater, but I can't turn down chips, salsa, and cheese dip! I just can't! Even though the service at this restaurant is super awesome and fast, my daughters almost always find themselves "bored" or wanting to "do something" while we wait. I normally try to keep markers and scrap paper (along with small bottles of water and bags of Scooby Snacks, just in case) for them to use while we wait. This evening, however, I tried something different – enter CALM STRIPS!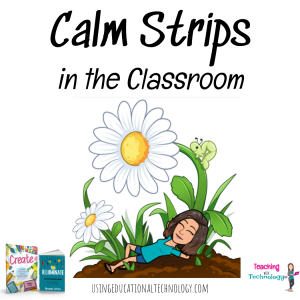 I really never noticed how calming mindlessly fiddling with something could actually be until I added a pop socket to my phone. As a high school teacher, I noticed that my students had pop sockets, but I didn't really understand the purpose of these tools — purposes, I should say! In addition to serving as a combination between a handle and a kickstand of sorts for your phone, pop sockets are also fun to fidget with! My daughters have pop fidgets in a variety of shapes and colors and, though they can be found ALL OVER my house, I haven't really played with them.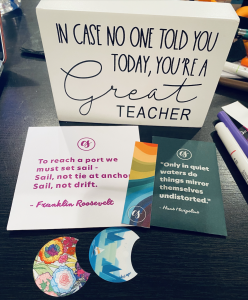 When I was contacted by Calm Strips to review their product, I was immediately drawn to the idea of an anxiety-reducing strip. As a teacher, my thoughts flew to how I could use these in my classroom to benefit my students – I'm totally game for just about anything I can do in my classroom to reduce student anxiety and provide a fun fidget!
Calm Strips are, well, just what the name implies! These lovely, adhesive strips come in a variety of sizes, designs, colors, and textures that can be conveniently placed on your laptop, Chromebook, cell phone, desk, or really, wherever you'd like! Calm Strips can easily be removed with no sticky residue – at least that I've found! I even put one on my brand new MacBook — you should have SEEN my daughters' faces when I put a sticker on my MacBook! When I removed the sticker after it had been on the surface of my laptop for about an hour, there was no sticky residue AND it easily adhered to another surface – my desk!
Calm Strips arrived at my house in adorable packages, each with a fantastic quote, one of which was from my favorite president, FDR!
As I'm writing to you, I find myself pausing and just rubbing my fingers over the Calm Strips – sometimes focusing on the texture of something you're feeling helps clarify your thoughts!
I plan to offer these to my students this year to help ease anxiety and promote a sense of calm. Teachers can also create their own Calm Strips using the customization feature! What do you think? Something you'd like to try out! If so, be sure to enter the giveaway and score a pack of Calm Strips for your students!
Thanks for reading, and have a calm evening 🙂