Hello, friends! I'm coming to you today from my couch, four cups of coffee into my Sunday. Our last day of school was Friday and summer school begins on Wednesday. SO … I'm enjoying a few days of much-needed R&R that includes going to bed without setting an alarm, drinking my first cup of coffee in my jammies (probably the second and third cups, as well!), watching the Today Show in my recliner, getting to work out during the day instead of after work, and probably catching a mid-afternoon nap. Before I dive into the various summer classes that I teach I thought this weekend would be a great time to share with you my classroom reflections from the 2017-2018 school year. Reflection is key to growth!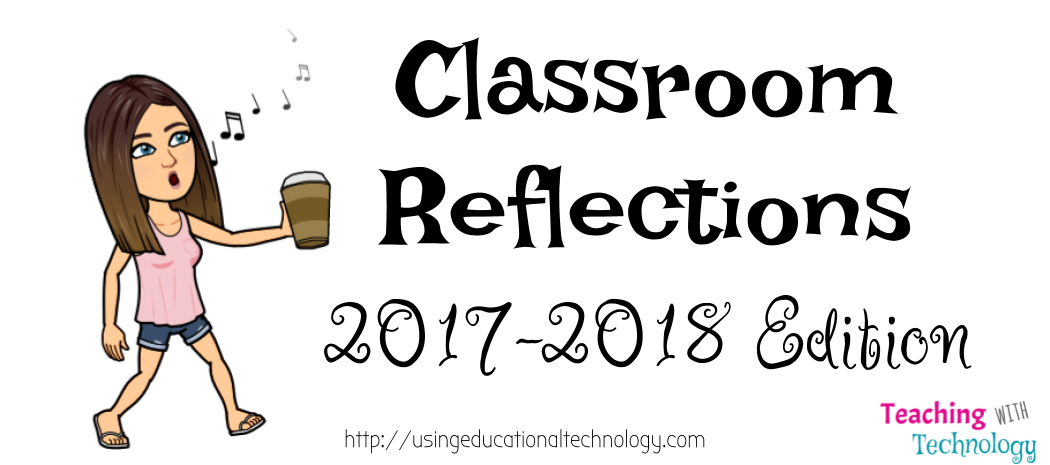 My Flipped Classroom
A few years ago when my building went 1:1 with Chromebooks, I jumped off the deep end (more like cannon-balled) of the educational technology pool and decided to flip my classroom. This was one of the best decisions I made as a teacher. Yes, it required a lot of legwork on my part, and yes, it required a huge shift in my classroom, for both me and my students. But it has been sooooo worth it! This year, I switched up my in-class flip again and decided to loosen my death grip on the reins just a bit more by designing lessons and units so that students could work a bit more at their own pace. I started each unit by assigning a unit HyperDoc that I made with a Google Site. This included all of the information, requirements, projects, etc., for the unit. For the first unit, I set a due date for the entire HyperDoc – this didn't work well for many of my students who needed frequent, specific due dates to stay on track.
After gathering feedback from my students about the unit, we made adjustments for the next unit. Students asked for specific due dates and Kahoots, Quizizz, or Quizlet Live activities after each video to make sure they were on the right track. This allowed for whole class or individual re-teaching throughout the unit. It was fabulous – these suggestions were carried on throughout the year and modified as needed to meet the learning needs of my students.
Mission: American Government – Gamified Government 
We also continued "Mission: American Government" this year in which students earned XP for completing missions and leveled up to received "weapons of wisdom" they could use on their tests. Last year, I awarded badges for students who earned at least an 80% on their test on the first attempt. This year, I didn't include the badge element because, to be honest,  I forgot to print them out for the first assessment, and students didn't seem phased. They did, however, ask how much XP badges would be worth – maybe I'll incorporate that into the game next year!
Another component of Mission: American Government and the unit HyperDocs is the "Extend" feature that encourages students to go above and beyond in applying what they've learned. Each unit offered students a Hashtags through History extend opportunity, plus at least one other activity that was directly related to the content of the unit. By completing this, students could earn XP – XP not only helped them level up but also helped them earn bonus points at the end of each semester.
The only complaint about the XP system came from my dual credit students who had American Government last year – "why don't you do XP in our classes, too?!"
The 2017-2018 school year marked the end of my first decade of teaching, the publication of my book, Illuminate, and another year that I feel like I've grown as an educator. I'm excited to continue growing to become the best educator I can be for my students.
Coming soon – preliminary thoughts on what to add/change for the 2018-2019 school year.
Thanks for reading 🙂