Hello, friends! It's been quite a hectic few weeks in the land of Teaching with Technology. 2017 has not been ki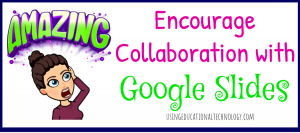 nd to my family and me in the sickness department – we had strep throat in January, Flu A in February, and it looks like bronchitis and a sinus infection will be the plague of March. Will it never end?! On a positive note, I decided to try something different with my American Political Systems class landmark case project: Collaborative Google Slides!
I actually decided to try this about 30 seconds before class began … a practice I DO NOT recommend! Sometimes, I feel like I get stuck in a rut with this project, though. And that's not something I EVER like to feel! I was explaining the project to my students … roll the dice to choose a case, include the background of the case, the Constitutional issue of the case, the ruling of the case, and why this case is important … and just as I was about to say, "create a Google Slides presentation, a Prezi, or another type of presentation," I said, "I'm going to share a presentation with you on Classroom and each group will contribute a slide for their case."
The response was, "whoa, we can do that?" and "what happens if someone deletes my slide?" My answers were "yes," and "I can always check the revision history!" That last response seemed to assuage their fears 🙂
Here's what I hope to accomplish with this collaborative Google Slides presentation –
–> Peer review: Students can easily view their classmates' slide and provide feedback – students can also view their classmates' product and potentially "up their creativity game" 🙂
–> Creative product: Since students are only required to contribute one slide of content, hopefully, they'll REALLY take ownership of their portion and make it awesome!
–> Easy grading: Instead of opening 18 different presentations, I'm opening one! Wow!
–> Easy product display: I like to display student work in my classroom and on the wall in the hallway by my room. This collaborative project will make printing and showcasing their awesome work a breeze!
I'm excited to share their product with you!
Thanks for reading 🙂