Do you ever have one of those weeks that is so jam-packed with awesomeness that it leaves your head spinning? Well, friends, last week was one of those weeks for me. My American Government students started in their Executive Branch HyperDoc on Monday. On Tuesday, my Amazon order that included "Assessment that Matters" by Kim Meldrum (affiliate) and "My Not So Perfect Life" by Sophie Kinsella (affiliate) was waiting for me when I came home from work. On Wednesday, I attended a FANTASTIC Social Studies Integration session led by Rhett Oldham. On Friday, my dual credit American Political Systems students had the rare opportunity to actually watch in real-time something they're learning in class play out (House of Representatives debate over Trumpcare). On Saturday I experienced my very first edcamp … my mind is spinning, i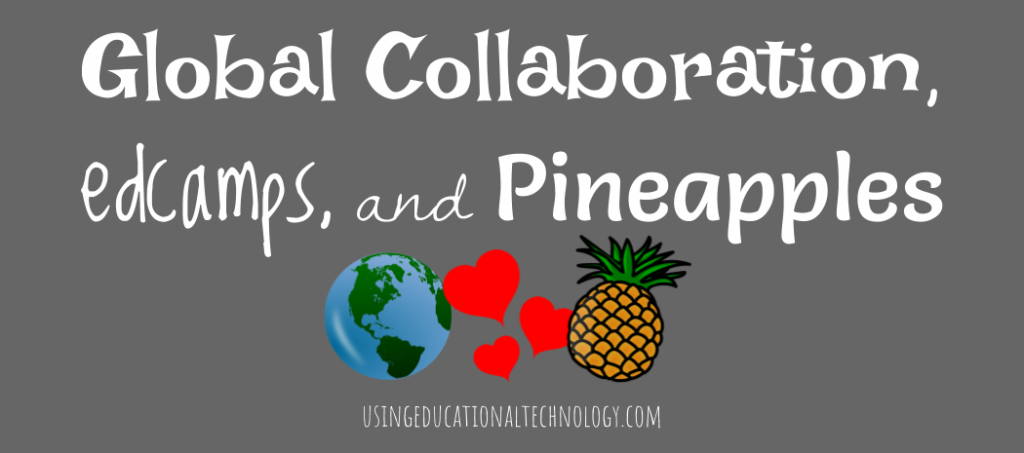 n a good way!
I've used HyperDocs before in my American Government class, however, I've never created a HyperDoc for an entire unit. So … as you can imagine, I've been a little skeptical about how that will work. I'm trying to mash the HyperDoc concept together with flipped mastery and promote more of a student-centered classroom. If you checked out my Executive Branch HyperDoc, you probably noticed my spin on the "Show What You Know" Bingo that the HyperDoc gals shared in their awesome book, The HyperDoc Handbook. (aff) My students' response to this part of the HyperDoc made my teacher heart swell with pride, "wow, you really put some work into this, didn't you Mrs. Petty? It's cool that I can pick what I want to do." I'm telling you, people. It's like the sky opened up and angels were singing the Halleluiah Chorus. I'll share more feedback about this in a post soon!
One of my favorite aspects of the Social Studies Integration workshop on Wednesday was the emphasis on global collaboration. Rhett's middle school students work with classes from all over the world to share ideas, culture, and even help with homework. I LOVE this idea and have used it in my own classroom. So far, my students have worked with a class in the United Kingdom and one in Belgium. The feedback from my students and from students overseas has been phenomenal. Students ask cultural questions of their counterparts, exchange social media info, and talk together via Google Hangout. It. Is. AWESOME. I love seeing my students collaborate with their peers in other parts of the world. We're breaking down barriers – classroom and cultural – and promoting global citizenship and cultural empathy. I really want to expand my global collaboration projects and have turned to my social media outlets for help in doing so. I've created a Google Form for teachers interested in global collaboration projects to complete … my goal is to create a database for teachers to connect with other educators around the world! If you're interested in global collaboration, please read my post here and complete the form below. I'll share all of the info I gather in a page on my blog!!
When I got home from my first edcamp experience Saturday afternoon, I felt like I had just downed a giant latte … I was PUMPED UP! Edcamp was awesome! I shared on Twitter yesterday that the whole experience made me feel like there are more "freaks on my island." As educators, we know that our profession is isolating. Sometimes, we feel like we're in the trenches alone. When we try something new and different in our classrooms, it's like we're setting sail by ourselves into unknown waters in a little canoe boat. The edcamp experience was not only revitalizing for me as an educator (it seems as though I need a jolt in March!), it helped validate my efforts in my classroom. I know I'm not supposed to need validation … I'm doing what I know is good for my students … but, come on! Sometimes we need to know we're not alone! That other people are just as crazy as we are and are looking for new tools and strategies to use in their classroom, too! That we're not the only ones who don't want to teach the same way as we were taught and know that education needs to be different than it was in the early 1900s! I'm so glad there are so many great educators who are like me and are not willing to just do what they've always done.
I also won a SIGNED copy of "The Innovator's Mindset" by George Couros. WOW!!!
One of the big "ah-ha" moments I had at edcamp was the concept of Pineapple Charts. Have you heard of this? Pineapple Charts are posted in schools (offices, breakrooms, teachers lounges, etc) where teachers can post when they're doing something really cool in their classrooms to encourage other teachers to come in and observe! Teachers are asking for feedback and encouraging their colleagues at the same time! What an awesome idea!!!
I also learned that these charts are called "Pineapple Charts" because the pineapple is the global symbol for "welcome." How in the world am I 31 years old and I have NEVER heard of this?!?!
So … takeaways from last week, in no particular order …
–> my students like HyperDocs … more to come on that experience soon
–> I have new books to read — teacher books and chick lit
–> I want more teachers to join me in my global collaborations projects
–> edcamps are awesome
By the way, I'm adding pineapples to my classroom decor as soon as I can get to Hobby Lobby.
Thanks for reading this super long post 🙂