Are you looking for a way to engage parents and students in classroom events and activities? Look no further than LivingTree!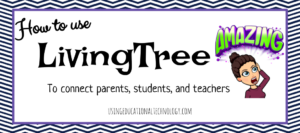 LivingTree is a FREE, that's right, a FREE platform that encourages parental involvement and communication through a user-friendly platform. Teachers, students, and parents will love using this private social network to communicate with each other and be more connected with their student's education.
Here's how it works …
First, teachers, parents or students create a free account by accessing LivingTree and choosing "sign-up." No-brainer, right?! The next screen will prompt users to select their role.
Next, users are required to enter profile information. *NOTE* If your organization uses Clever, you can simply log in with those credentials to avoid the sign-up screen!
When you access your account for the first time, you'll be greeted with a welcome screen which offers a brief, but SUPER HELPFUL walkthrough of the many wonderful features of LivingTree.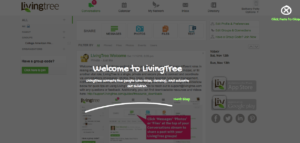 After viewing the tutorial, you're ready to create your first group. This will be the private social media community for students and parents in your classes. The group profile screen (shown below) requires a name and age range for the group, and option to upload a photo for your group.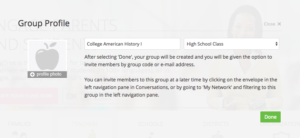 When you've created your group, it's time to add parents and students! LivingTree allows users to be added via code (similar to many tools and sites we use in our classrooms) or via email. As a high school teacher, adding students with a code is much less cumbersome than adding them by email. Adding students via email may be a better option for younger students! Parents can also be added by email or join code … adding parents by email is probably the easier route!
When students and parents enter the code (a different code is generated for parents and students) they will be able to enter the code upon signing up or by entering the code from their home screen.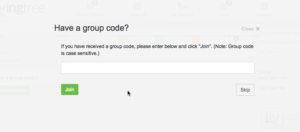 Once the code is entered, the new user will be prompted to confirm the details and then continue.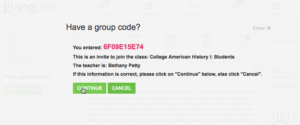 Then, the magic begins! Think of LivingTree as a private social media network just for your organization. Teachers, parents, and students can share files, messages, images, and more within the confines of LivingTree without having to worry about the public viewing sensitive or personal information.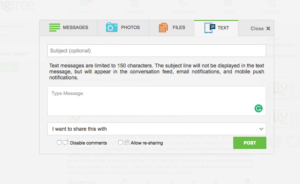 LivingTree's platform provides users with a familiar setting in which to communicate. The landing page and stream are both quite similar to Facebook, which should be helpful – especially for student users, many of whom are extremely comfortable with using social media! The "text" feature, for example, places a 150 character limit upon anything shared, which is reminiscent of the 140 character limit of Twitter!
One of my favorite aspect of the communications feature is that the teacher can determine whether or not the information they post can be commented upon or shared with other users. A notification option is also available for teachers which would alert users of the post via cell phone.
LivingTree also provides an iOS and Android app for users, which have the same capabilities as the web version. This increases the likelihood that parents, students, and teachers will reap the many benefits of LivingTree because let's face it … many people are more apt to have their cell phones with them at all time as opposed to lugging around their laptop!
LivingTree is not only for teachers … coaches, administrators, and other extracurricular organizers can benefit from this great service, as well!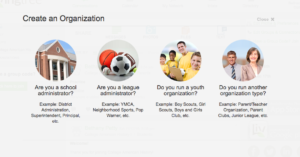 LivingTree provides a wonderful *FREE* social platform for schools and organizations to share information, achievements, events, and more in a safe and secure environment. Give LivingTree a try!
Thanks for reading 🙂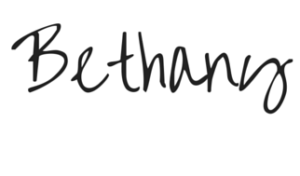 *This
is
a
sponsored
post
in
collaboration
with 
LivingTree.
All
opinions
are
my
own."