Whoa! It's been quite some time since my last post! The end of the semester crazy time has commenced. Christmas presents are all ordered and I've received the shipping confirmations … which is always a weight lifted from my shoulders! As I was finishing up my shopping last week – nearly all of which I do online – I was on a website and an ad started blaring. I quickly turned off the volume before my kiddos saw the Barbie camper I was ordering … don't tell! Then I thought, why didn't I just mute the tab? Duh, Bethany. The right-click options for Chrome tabs are grossly underused, so I thought I'd share these features with you!
The right-click menu looks like this …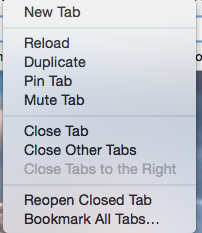 Most of the options are fairly self-explanatory, but the "pin tab" option can be confusing. While you're working, if you're like me, you most likely have at least three tabs open. Have you ever inadvertently closed a tab? The tab that you REALLY need? Ugh. Yes, you can use CTRL+SHIFT+T to reopen the tab you just closed, but wouldn't it be great to avoid that problem? To prevent yourself from accidentally clicking that red X, right click on the tab you need, and select "pin tab." Your tab will shrink in size in the tab area and will move to the left of your browser.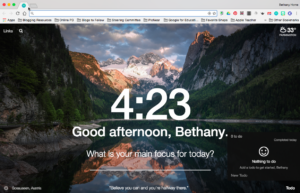 If you notice, the red X is no longer on the newly pinned tab, preventing you from accidentally closing that tab! Hooray!
The right-click option also allows you to quickly "close tabs to the right that you are no longer using. (You can choose this option without pinning a tab) I use this when I'm working on something and realize I'm becoming distracted by the Facebook, Twitter, Pinterest, and CNN tabs that are almost always open on my browser 😀
Perhaps my favorite feature of the right-click menu is the ability to mute the tab. As I was saying earlier, ads start blaring at the most inopportune times. My favorite moment of blaring music from random ads occurs during our school's SSR (silent sustained reading – just in case you're not familiar with it!) program. I'm either reading my Bible and doing my daily devotion, reading a book on my kindle or on a news website getting caught up. No matter what, an ad starts blaring at the most silent moment in my classroom. It's splendid. I've made a habit of immediately muting any CNN or History.com tabs as soon as I open them. It's great!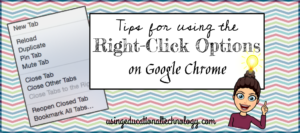 The right-click option on Chrome also offers the ability to …
–>> Reload a page
–>> Duplicate a page
–>> Close tabs
–>> Bookmark tabs
–>> Reopen a closed tab … just in case you closed something you actually needed 🙂
I hope you enjoyed this Chrome hack!
Thanks for reading 🙂