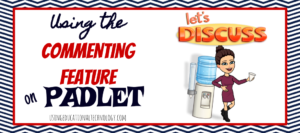 Have you seen the recent update to Padlet? As if Padlet could get any more awesome, they've added the ability to comment on posts! This feature opens so many doors for using this wonderful tool in the classroom!
My dual credit students are currently participating in a cultural collaboration activity with students in the United Kingdom (more about this fabulous activity soon!) and we are using Padlet to introduce ourselves and ask questions of students overseas.
The ability to comment on student posts, as opposed to creating a new post and then "@-ing" a specific person, is absolutely fantastic! This has helped to create an interactive "discussion" environment and is truly helping to shrink the distance between my students and our British counterparts.
To enable the commenting feature, simply access a Padlet, then select the "modify" settings wheel. Commenting is located below the attribution option, as shown below.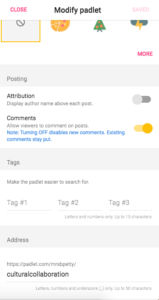 Great addition, Padlet!
Thanks for reading 🙂