You have no doubt realized that I am a huge fan of Google Forms. I love the simplicity of creating Go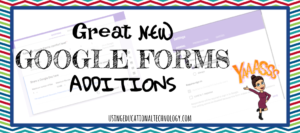 ogle Forms and the fabulous data collection that comes with attaching a Form to a Google Spreadsheet. Google has recently given some great updates to Forms, including the ability to create self-grading quizzes from a Form, and now the ability to upload files! Shut the front door, Google!
The file upload addition is fabulous, but in order for the option to become available, teachers must select the option to limit results to users within their domain (as shown below) …
If you attempt to remove this setting after adding a "file upload" question feature, you will be unable to do so.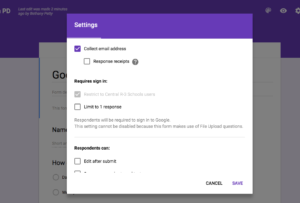 After selecting the "file upload" option, you'll be greeted with a message that reads …
"Let respondents upload files to Drive  All files will be uploaded to the Form owner's Google Drive. Make sure to only share this form with people you trust."
The files that are shared through the Form will be available in link form on the Spreadsheet attached. It's fantastic!
The "file upload" option allows teachers to set a maximum number of files that can be added in each submission, as well as determine the maximum file size and the types of files that can be uploaded.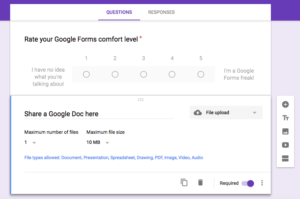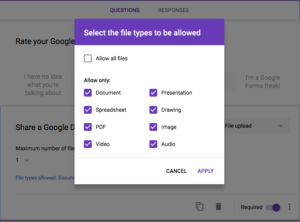 Another update includes the ability to determine whether or not respondents will be able to view their responses after they submit the form. I love this feature! I understand that teachers who use Google Forms as assessments may not want their students to be able to view their submissions … screenshots and copying/pasting are easy functions to complete!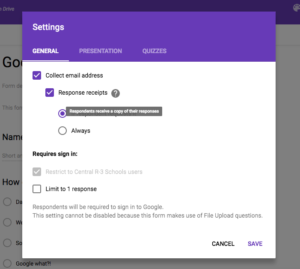 When I complete a Google Form, I LOVE the option to view my submissions. We use Forms for substitute requests in my district, and it's always nice to have proof of asking for a day off!
How do you like these new additions?
Thanks for reading!