Earlier this school year, my colleagues and I participated in a webinar about the wonderful features of the online reading platform, Curriculet.
Curriculet includes hundreds of ebooks, both free titles and those available for rent, that are assignable to students. Teachers sign up for an account, create classes, and share simple codes with students that allow them to join the class.
To read more about creating classes with Curriculet, please read my original post here.
While participating in the webinar, I began to think about how I could encourage my students to both read independently and monitor their reading at the same time….the answer? Reading lists on Curriculet!
Many of my students are interested in reading classics like Dracula, Utopia, The Art of War, White Fang, and more.  Creating a reading list via Curriculet allows me to provide my students with these texts and to encourage them to expand their reading!
How to create reading lists with Curriculet:
1. Create a new class
2. Title it
3. Add books (free or rental) to your library
4. Assign books to your new class
Voila!
One suggestion…
If your students are reading these books on their own time, you may not want to assign the embedded Curriculets with the book.
If you would rather your students not answer embedded questions, complete quizzes, or view annotations as they read books on your book list, simply create your own Curriculet and do not add any questions or checkpoints. Then, make that Curriculet available to your students via the book list.
We use Curriculet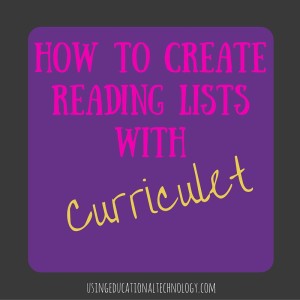 nearly every day in my classroom. If you're looking for a great online reading platform that offers an affordable option for contemporary articles and leveled texts, definitely check out Curriculet!
Thanks for reading 🙂
[wp_ad_camp_4]