Tomorrow, I start my tenth year teaching. TEN YEARS. It doesn't seem possible! I still feel like a new teacher – excited and nervous for the first day of school. As I mentally prepare for heading back to the most important job in the world, I'm thinking back to my first year teaching. I was 22 years old and had just graduated from college about 3 months earlier. I was SCARED TO DEATH! As a way of reflecting on what I've learned during my teaching career to date, I thought a letter to myself as a first-year teacher would be fun! Enjoy!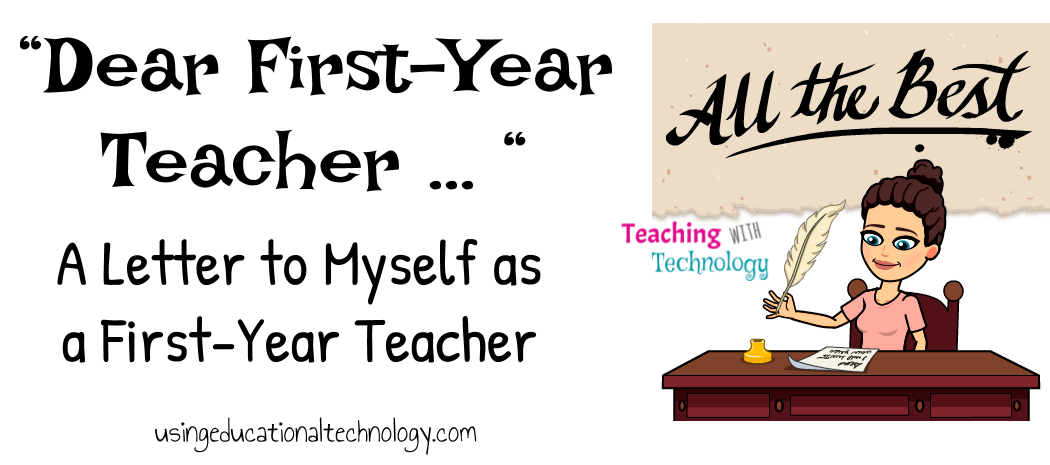 Dear First-Year Teacher Bethany,
I write to you today from the future – yes, you survive your first year teaching! I hope to share with you some wisdom that you'll learn over the next few years as you work in the most important profession and strive to inspire and encourage your students to become the awesome people they're meant to be.
First – chill out on the worksheets! And by the way, calling them "sheets of fun" isn't fooling anyone. Your students don't like to complete them, you don't like to grade them, they're boring and – be honest, are they really effective? In a few short years, you and your students will have access to a wealth of technology that will allow you to encourage your students to create, communicate, collaborate, and think critically like never before!
Soon, you'll learn about something called the "flipped classroom," and it will transform that way you view your role in your classroom. You'll begin to think that moving from a "sage on the stage" to a "guide on the side" is a better instructional strategy that will help you more effectively meet the needs of your students. It. Is. AWESOME! To implement this new strategy, you'll inadvertently create a YouTube channel – don't freak out, it will be one of the best things you've done for your classroom! You'll randomly create "raps" about Government concepts, allow your students to use your iPad to record you (yup, you get one of those, too!), and then you'll put it on YouTube for the world to see! You shed your shame and fear of looking goofy, and your classroom is better for it!
Yes, you will continue to doubt whether or not you're actually making a difference or accomplishing anything in your classroom. Try not to worry – I know, it's easier said than done – because you're doing a great job! Soon, you'll learn that your classroom will be moving to a 1:1 learning environment with every student using a Chromebook. At first, you'll be a bit nervous about having these devices in your classroom, but THEN, you will dive headfirst into the world of educational technology, and you'll LOVE IT! Educational technology tools will give all of your students a voice, even those that never say a word (you know who I'm talking about), and help you provide a more engaging, individualized learning experience for your students! You'll even start a blog, join Twitter, and share your experiences and ideas with the world! Not kidding! You'll travel to conferences and workshops and PRESENT your ideas and strategies. You're also an adjunct instructor who teaches Educational Technology and History/Political Science classes online. YES! YOU!
You'll also write a BOOK. And it will be PUBLISHED. WHAAT?!
Outside of your classroom, you'll finally marry Issac 🙂 and you will have two beautiful, fabulous, smart, kind, and wonderful daughters and you'll name them Hanna and Molly. Don't worry, Mom and Dad are fabulous grandparents and help you SO MUCH. Brittany is a great help, too – she gets married and is, as of this letter, pregnant with your nephew!
As I write this to you, Molly is sitting on my lap playing on her iPad and Hanna is enjoying her first day of first grade. Issac is working hard, as usual, and I'm chugging coffee. You start to drink it without creamer, soon!
A few closing thoughts: I'd tell you to stop stressing, but we both know that's pointless. And stress can be good for you – I know you work best under pressure. Don't compare yourself to anyone. Do you. You're doing a great job, for real. Keep going!
Remember Psalm 46:5 – it's true!
Love,
You
Thanks for reading 🙂