*In exchange for a review, I was given two VR/AR headsets and two decks of system cards from Utopia 360*
WOW! This is AWESOME! I was recently contacted by the great people at Utopia 360 VR and asked to review their VR and AR system. It. Is. SUPER COOL! As I high school Social Studies teacher, I knew I couldn't provide a review of the products as they would be used in my classroom – while these systems are fabulous, they don't quite fit into my extremely jam-packed curriculum! Of course, my most important job is not as a teacher, but as a MOMMY! So my daughters, ages 4 and 6, are helping me review the Utopia 360 VR/AR system!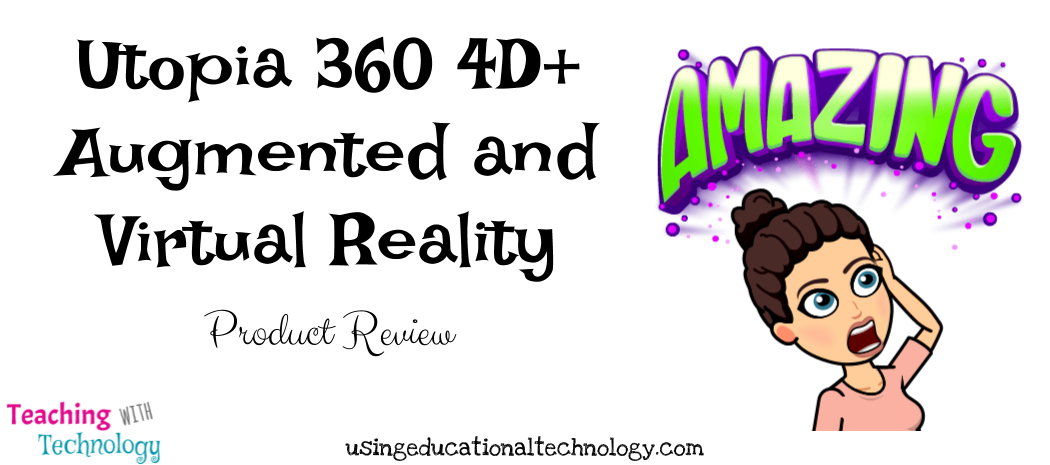 Each box includes instructions for use (you really don't even need the instructions – the kit is so easy to use!), a VR headset, a cleaning cloth, and a deck of augmented reality cards. Each deck of cards includes an instructions card with an access code for using the super-awesome augmented reality cards.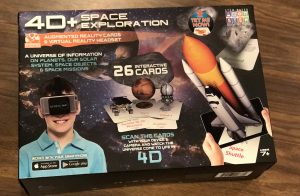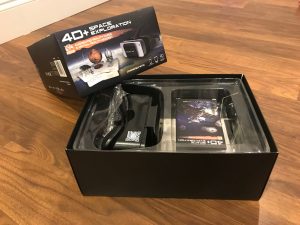 When my oldest daughter, Hanna,  opened the box, she immediately went for the virtual reality viewer, saying, "Mom, I need your phone, PLEASE!!" She was extremely excited to dive into the solar system and knew exactly what to do!
I downloaded the Space 4D+ app from the app store on my iPhone, entered my product code (found on the instruction card in the deck), and selected the "features" icon in the bottom right corner of the screen. I choose "VR-Mode," and we prepared to take a journey through our solar system! There is no way to adequately describe her joy when she saw the sun, sounded out how to say Mercury, and bumped into the wall while spinning around to look at Jupiter. It was amazing to watch my 6-year-old become so excited about the solar system! Next, we went to the augmented reality cards. This was FABULOUS! Hanna LOVED being able to "make the planets come off the paper" and "spin them around" with my phone.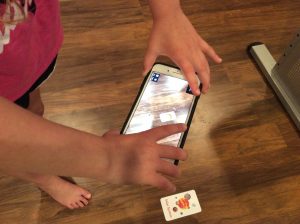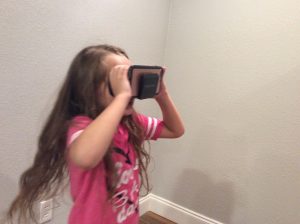 My youngest daughter, Molly, was MUCH more interested in the 4D+ Animal Zoo kit! Just like the Solar System kit, we opened the box to find a virtual reality viewer, instruction manual, lens cleaning cloth, and a box of augmented reality cards. After downloading the Animal 4D+ app on my phone, Molly chose an animal card to "play with." We put the "M" card with a picture of a monkey on the floor by her, I launched the app and placed my phone in the virtual reality viewer. She put on the VR headset and looked down at the card. Her reaction was "WOW, Mom! The monkey is moving and making sounds!" I asked her what monkeys like to eat most, and her response was, "Mom, you know monkeys like to eat bananas!" We found the card with a picture of bananas and put it next to the monkey card. Through the VR viewer, we watched the monkey reach out to grab the bananas. I LOVED watching Molly trying to "pet the monkey." Augmented reality is just so awesome!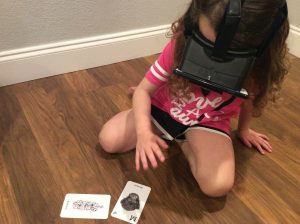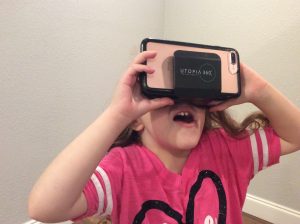 The girls and I had SO MUCH FUN reviewing these great products together! Are you interested in purchasing your own 4D+ Augmented and Virtual Reality bundle from Utopia 360? Click here to get your hands on these awesome products!
Thanks so much to the great people at Utopia 360 for allowing my daughters and I to have such fun with your product!
Thanks for reading 🙂