My students are in the middle of reviewing for their US Constitution test – according to the state of Missouri, students must take and pass this test in order to graduate from high school. It goes without saying, of course, that my students are extremely focused on doing well on this test! We use a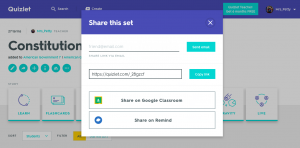 variety of edtech tools to review for assessments, including Quizizz, Kahoot, and Quizlet. Yesterday, I opened an email from the great people at Quizlet to learn that I can now easily share Quizlet decks with my students through Remind! Woohoo!
To share a Quizlet deck with your students, simply open a deck and select the share icon. Next, you'll see a box appear with the option to share the deck with your students via email, link, Google Classroom (which is another fantastic feature!), and now Remind!
When you select the Remind option, you'll be asked to log into your Remind account. Next, you'll select a class to share the with deck with, and voila! Your students will receive a text (or email, depending on how they've signed up for Remind) with a link to the flashcard deck you shared!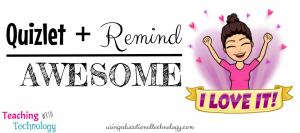 To learn more about using Remind in your classroom, check out these posts on my blog.
Thanks for reading 🙂