It's one thing to be able to show students pictures of far-off cities and amazing locations, but allowing them to experience these places through virtual reality or augmented reality can be quite powerful. There is definitely no shortage of virtual reality apps and videos in the world of educational technology. But, what is virtual reality?
According to the English Oxford Living Dictionaries, virtual reality is "the computer-generated simulation of a three-dimensional image or environment that can be interacted with in a seemingly real or physical way by a person using special electronic equipment, such as a helmet with a screen inside or gloves fitted with sensors." (Oxford Dictionaries | English, 2017) Virtual reality apps and videos use stereoscopic images that, together with a VR viewing device (headset, Google Cardboard, etc.) provide users with an immersive experience, giving them the feeling of actually being in a specific location.
How can teachers leverage the power of virtual reality in their classrooms? Using a variety of tools and sites, teachers can take their students all over the world.
Virtual Reality with YouTube
When you're ready to dive into the world of virtual reality, start with YouTube's official virtual reality channel. To get started, simply access the YouTube app on your smartphone and search for "Virtual Reality." You'll be able to access the Virtual Reality channel and view hundreds of great videos ranging from the 2017 Solar Eclipse to a hang glider over the ocean, and even a guided tour of Rome.  Grab your VR viewer, select the virtual reality option on the YouTube video (this only works on virtual reality videos), slide your phone into your viewer, and get ready for an awesome experience! These videos can be viewed even without a virtual reality viewer, and are still awesome even on a desktop computer.—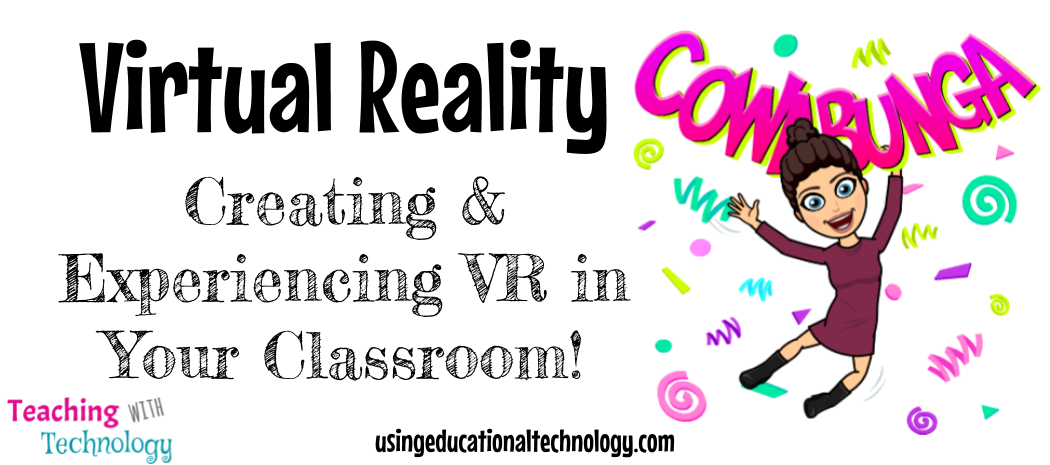 Creating Virtual Reality
Let's face it. VR is awesome, whether you're a teacher or a student. It's fun to put on a VR headset and be transported to far off places. Imagine how awesome it would be for students to create their own virtual reality images of their community.
—- Check out Chapter 3 of Illuminate to learn about how you and your students can CREATE your own VR! —-
Imagine the sense of empowerment your students will feel when they create their own VR content!
My students really enjoy participating in global collaborations projects with classes from other parts of the world. We use great tools like Padlet and Google Hangouts to introduce and discuss our culture with students in other countries. During a recent collaboration activity, my students expressed an interest in sharing an image or video of our classroom with our overseas counterparts. Instead, I offered to help them create virtual reality images of our classroom and other areas in our school. Watching a video of or viewing an image of a specific place is great, but imagine immersing yourself in a new place using a virtual reality headset. This can take learning to a whole new level and encourage students to use technology to connect with others around the world in a positive way.
Thanks for reading 🙂