Earlier this calendar year, I access EDpuzzle for the first time since Christmas break,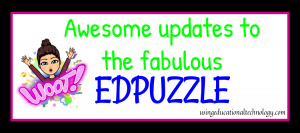 and what did I find? New updates! Teachers can now award partial points for student responses! Hooray!!
Here's how it works:
When grading student responses to assessment questions, you can now mark the entire question wrong like this,

…or, award partial points like this,

…or can count the question entirely correct like this.

Be sure to check out my EDpuzzle tutorials and other posts about this fabulous tool!
Thanks for reading this super short post! Check back soon for more fun information about HyperDocs, Book Snaps, and MORE!