Do you remember the formative assessment platform, Let's Geddit? It was fabulous … a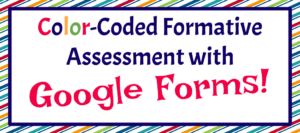 nd then it went away. I was so sad. I've been looking for an alternative that was as simple as Let's Geddit, and I've found many great platforms. However, I've been looked for something that requires little setup and great data. I should have known … a great Google Form and Spreadsheet are the answer to my problems!
Here's what I did…
–Create a new Google Form and link the Form responses to a new Google Sheet
–Include at least the following questions:
–>Name (obviously)
–>Class Period … unless, of course, you are a self-contained classroom
–>Inclulde a question that asks students to gauge their level of understanding
1. Green – I totally understand the concept and could teach it to my peers!
2. Yellow – I need a little more practice/help/information to grasp the concept.
3. Red – I need HELP!!
–Open the Spreadsheet that contains the responses. Locate the column that will display the color responses from your students. Then, access the "Format" menu and select "Conditional Formatting." Create rules for student responses. For example, if the cell contains "red," choose to color the cell red. Do the same for "yellow" and "green" responses. This will allow you to quickly view which students are struggling and those that have varying degrees of understanding.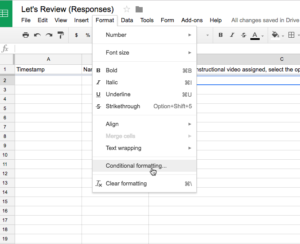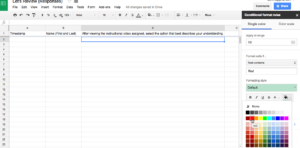 Super easy and quick formative assessment.
Reuse the Form and designate a different Spreadsheet for student responses. You could, of course, delete student responses from the sheet … but who wants to delete data?!
I hope your year (if you've already started!) is off to a fabulous start!
Thanks for reading 🙂