As I indicated on Twitter earlier last week…I'm seriously going crazy with the sheer awesomeness that is Google Forms!
The possibilities are seriously endless!
I recently had a minor epiphany while creating a rubric for a project. I was naming columns and rows while setting up formulas, which is great. As I told you earlier in this post, I am NOT A GOOGLE SPREADSHEET GURU.
There had to be a better way.
I decided to launch myself into Google Forms, and transfer the criteria from a typical project rubric into that form. As students presented their project, I easily selected their performance level on a handy Google Form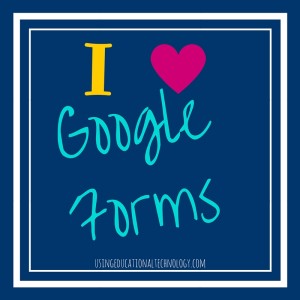 . Voila! All of the student grades were easily added to a Spreadsheet. It. Is. Fantastic!
The success I had with this Form encouraged…
Since I'm using a Google Form as a rubric, a question I've heard is "how are you going to send the students the completed rubric?"
Quick answer?
I'm not.
I'm using a Google Spreadsheet add-on…Yet Another Mail Merge…to send emails (from a draft in my gmail account) that include student performance they would typically view on a rubric.
Yes, using mail merge does require me to populate my Spreadsheet with student email addresses…which took all of about 6 minutes (I had 68 students on my Spreadsheet). I'm sure there's an even quicker way to do this…and I'll let you know as soon as I figure it out!
Thanks for reading 🙂