Happy March! I don't know about the weather in your neck of the woods, but here in Southeast Missouri, March is coming in like a LION! Thursday and Friday of last week were ice days for us, and we're expecting 4-6 inches+ of snow tonight into tomorrow morning. I love snow days and we've definitely had our share this year! In keeping with the tradition of the last 6 months, here is the monthly mystery post from Teaching with Technology!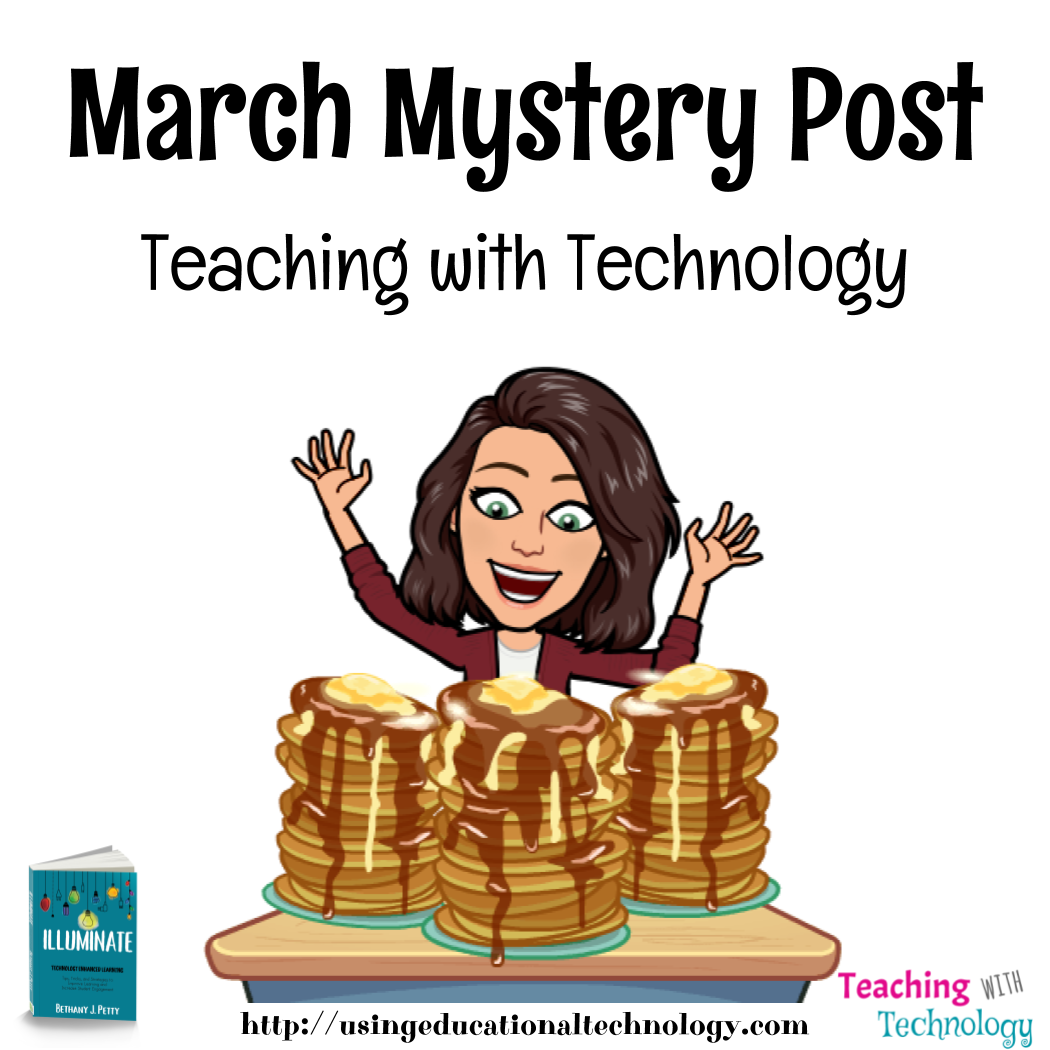 Throughout the last few months, we've looked at formative assessment, QR codes, the flipped classroom, teacher self-care, and more great topics. What, oh what, will our topic be for March???
Hmmmm…
DRUMROLL, PLEASE …
The March Mystery post topic from Teaching with Technology is …
GOOGLE FORMS!
That's right, Google Forms are absolutely amazing. As I say in my book, Illuminate, Google really hit a home run when they introduced Forms. They're so versatile, can be used for just about anything, and are a fantastic way to intentionally use technology to illuminate learning.
One of the goals I set for myself at the beginning of the school year was to use pre and post-assessments for every unit to get a clearer picture of student growth in relation to our learning goals. Of course, I used Google Forms to administer the assessments, but instead of only gathering the data on the Google Sheet that collects the responses, I decided to create a spreadsheet for my students to collect evidence of learning and progress. Check out how we chart learning targets here using available technology.
I also love using Forms for summative assessment and probably will begin to shift my assessments from my LMS to Google Forms soon. Why? Because of the ability to lock students into the Form when it's assigned from Google Classroom (and when they're on a school Chromebook)!! That's right! Locked Forms is currently in beta testing, but when assigning a Form (using the quiz feature) in Classroom, teachers can toggle a lovely little button to turn on "locked mode." When students begin the quiz, their screen completely locks and will not allow them to exit until they submit or close the quiz. The response from my students has been hilarious – "wait, it just locks us out of everything?!" and "hang on, let me figure out how to destroy this, Mrs. Petty." To date, they have not been able to "destroy" the locked form which is absolutely fantastic.
How do you use Google Forms in your classroom? Check out these posts for more ideas!
Thanks for reading 🙂