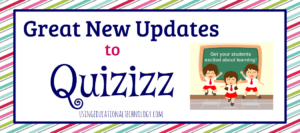 Quizizz is a fantastic game-based formative assessment tool that just keeps getting better!
As I've shared before, Quizizz is a FREE website where teachers can create FUN quizzes and activities for their students. Similar to Kahoot and Quizlet Live, teachers can create their own games or can choose from a variety of existing activities. Read more about Quizizz here!
One of the many great things about Quizizz is that the great minds behind this platform make frequent and AWESOME updates! Check out a few of the newest additions…

Print Quiz
Yes, sometimes we still need to print, or at least have a backup, just in case. Sometimes the WiFi crashes, the electricity goes out, or some other catastrophe will undoubtedly throw a wrench in our otherwise beautiful lesson. The print quiz feature is fantastic for a great backup plan 🙂
Create Key


The option to create, view, and print a key is also a new addition to Quizizz. The ability to print quizzes goes hand in hand with the ability to print the quizzes.
Share to Classroom
This feature is probably my favorite addition to Quizizz. I am fortunate enough to teach in a GAFE building, and tools like Google Classroom are absolutely indispens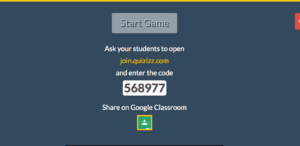 able in my classroom! I love that I am able to create Quizizz games and share the game link with my students via Classroom. Students then simply click on the Classroom link and join the game – NO pin to enter! Not that entering a pin causes a huge issue in my high school classroom, but this feature would be a huge sanity saver in the elementary classroom!
Upload Memes
Ok, this is cool. For those of you that are particularly gifted in the art of creating memes, this new feature is for you! Use popular websites like IMG Flip, or simply use Google Drawing to create your own memes. Then, upload them to your account and add them to your games. It's really that simple!
Quizizz is a fantastic learning tool for any classroom! Give it a try!
Thanks for reading 🙂